Want to take a Porsche for a spin?
A new experience centre takes cues from tourist destinations to immerse fans in the feeling of driving one of the luxury cars.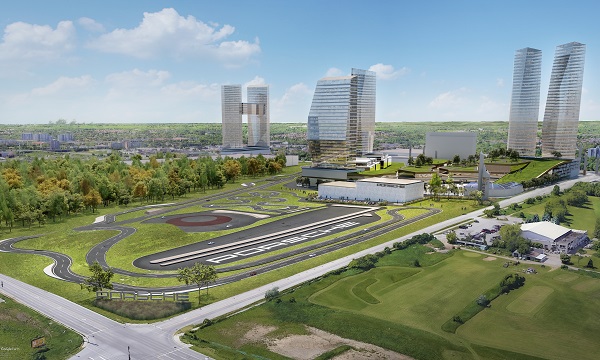 Porsche is doesn't think its latest experience centre will be a gamble.
When it opens in 2024, "PEC Toronto" will be located at the Durham Live development in Pickering, a site featuring a casino, concert venue, retail space and a luxury hotel.
The tenth experience centre opened globally, Porche's first Canadian location is the first "urban" version of the concept that is also being positioned as something of a tourist destination, matching its surrounding attractions and allowing fans of the automaker to "immerse themselves in the world of Porsche."
It features a 2km-long driving circuit designed by Tilke Engineering to highlight the technological capabilities of the automaker's two- and four-door sports cars. There are also indoor driving modules that will allow visitors to experience vehicle dynamics and technology with guidance from Porsche instructors all year long.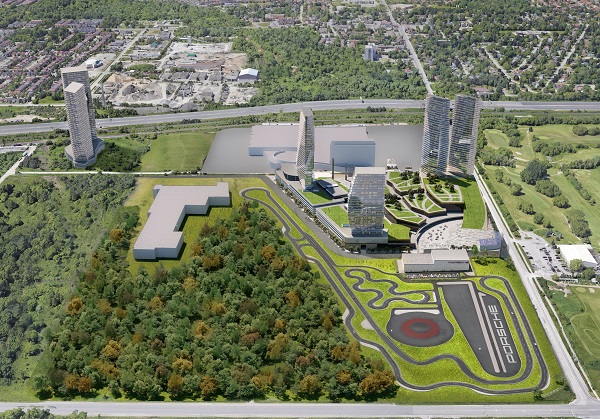 Global firm HOK, known for large scale projects like transforming the arrivals and departures hall at New York's La Guardia Terminal B, and an extension of the Smithsonian's original National Air and Space Museum in Virginia, are designing the PEC Toronto building and incorporating the latest technologies, including ones focused on sustainability.
Aligned with Porsche's global designs on decarbonizing the entire value chain of its vehicles, electric vehicle charging infrastructure will be incorporated in the Experience Centre's plan, extending the brand's Destination Charging program.
One of the biggest pain points for adoption of electric vehicles is lack of charging infrastructure. At the end of September, Porsche, which manufactures the fully electrified Taycan, announced a partnership with select hospitality and leisure properties to expand its electric vehicle charging capabilities across Canada.
Porsche-branded AC chargers can now be found at sites ranging from hotels and resorts, including The Ritz-Carlton, Toronto and Sofitel Montréal Le Carré Doré to wineries including Martin's Lane and CedarCreek Estate in British Columbia.
"An integral part of a sustainable mobility model is its fast and convenient electric vehicle charging network," Marc Ouayoun, President and CEO of Porsche Cars Canada.
The Volkswagen Group-owned luxury automaker is investing more than 15 billion euros in electric mobility, digital transformation and sustainable production by 2025, "to become the most sustainable brand for exclusive and sporty mobility," according to the company.