Kraft gives kids an education on pronouns
For Transgender Awareness Week, Peanut Butter bears star in a storybook to normalize these conversations.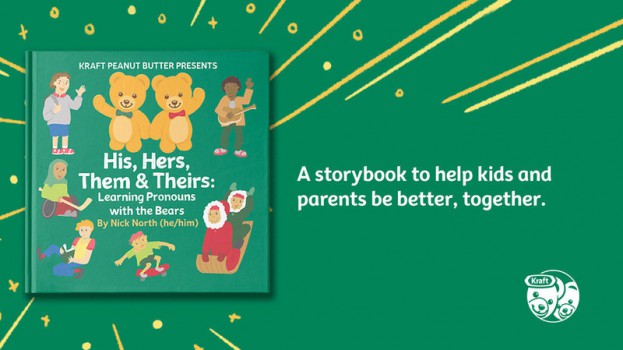 The makers of Kraft Peanut Butter have always liked it when people stick together.
That's why it has decided to champion acceptance and inclusion with the launch of a limited-edition book for families titled "His, Hers, Them & Theirs: Learning Pronouns with the Bears" for Transgender Awareness Week.
Written by author Nick North and illustrated by Paul Dotey, the book features brand mascots Crunchy and Smoothie in a story intended to give parents the opportunity to discuss the importance of proper pronoun use with their kids in a way that children can understand.
"Educating the next generation of Canadians to stick together is an important part of setting up a future of inclusivity for all, and we hope this book and our bears can help facilitate learning to move the conversation forward," Jacqueline Chao, brand manager of brand build and innovation with Kraft Heinz Canada, said in a release.
Given how heated the "debate" (skeptical quotes added on purpose) about pronouns have become, the book is also meant to normalize these conversations from a young age in a way that is removed from the charged way some adults have been talking about them. And recognizing that mom and dad might need some educating of their own, it is also meant to help the entire family understand why these conversations are important.
Starting on Nov. 20 – this year's Transgender Day of Remembrance – Canadians can visit Kraft Peanut Butter's website to purchase their own copy of the book. All proceeds from sales of the book will support transgender and LGBTQ2S+ communities, and Kraft will also make a $15,000 donation to support non-profit Rainbow Railroad.