Amnesty International frames its work as a ray of light
The non-profit is highlighting how its letter-writing efforts have made a difference.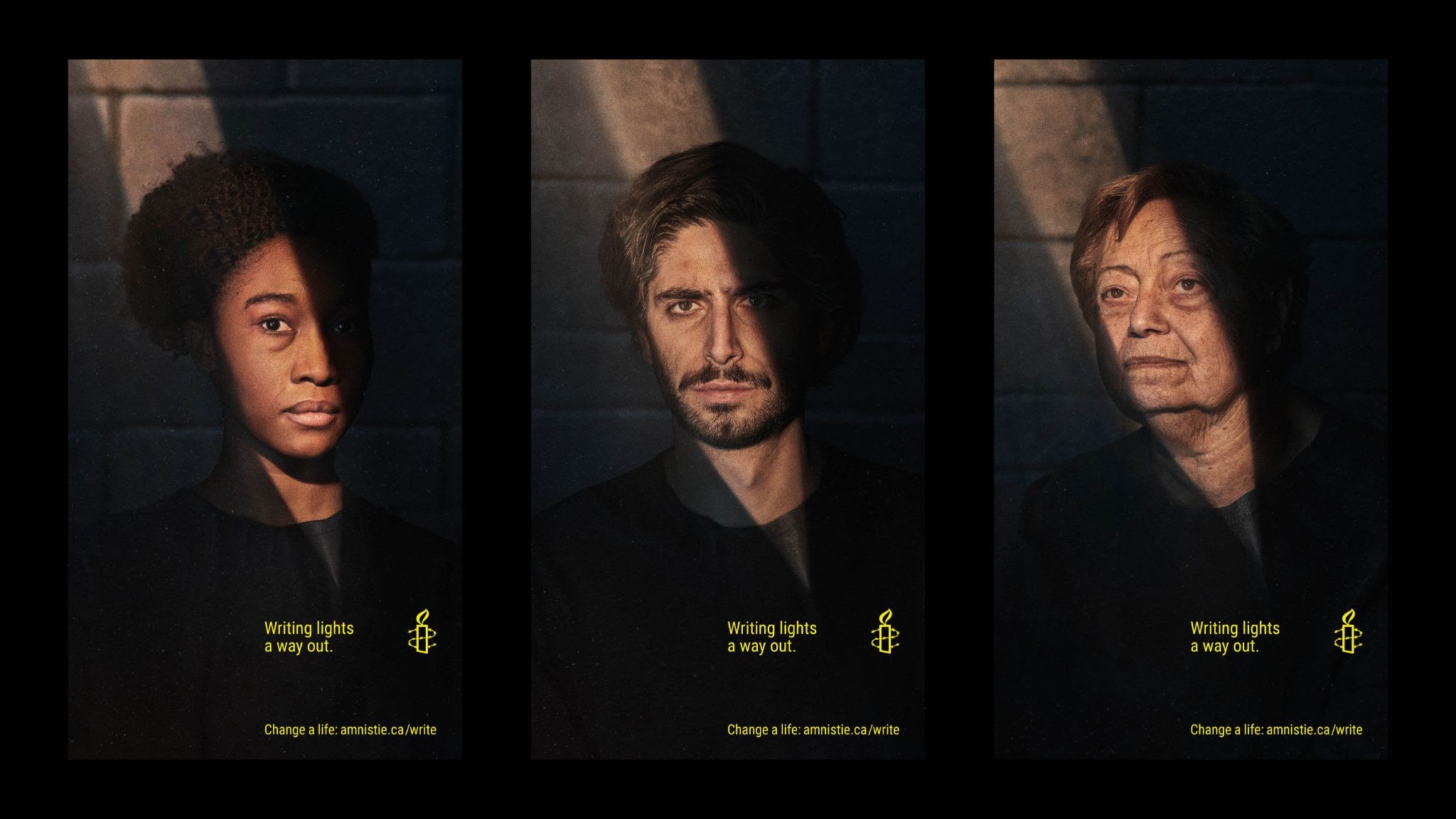 Every year, Amnesty International invites millions of people around the world to join them in a coordinated day to write letters in support of people who are unjustly imprisoned or at risk of abuses of their human rights.
To promote the 20th edition of the event this year, Amnesty worked with Cossette to develop a campaign for French Canada, "Writing Lights a Way Out." As the name of the campaign implies, the visuals play on that concept of light through a series of still photographs shot by Olivier Staub that use a ray of light, shaped like a pencil, illuminating the faces of people held in dark rooms.
The campaign was inspired by Imen Derouiche, a human rights advocate and former prisoner of conscience, who was herself a recipient of some of the Amnesty letters while she was incarcerated.
"Words, for me, are like light, liberation inside a prison," she said.
Over the last two decades, 127 of the 169 people Amnesty has supported through these campaigns have been set free. This year, it is supporting Rung Panusaya, Bernardo Caal Zol, Zhang Zhan, Mohamed Baker, Wendy Galarza, Janna Jihad, Imoleayo Michael, Mikita Zalatarou, and the NGO Sphere.
Credits
Advertiser: Amnesty International French Canada
Agency: Cossette
Creative: Anne-Claude Chénier, Richard Bélanger, Geneviève Duquette, Philippe Brassard, Jessica Fecteau, Chris Bélanger
Product: Olivier Charbonneau, Jessica Malo, Alexandra Zins, Ariane Gauthier-Roy, Élyane Jourdenais-Lemaire
Production agency: Septième – Marie-Andrée Lizotte, Alexandrine Perras
Print and digital production: Septième – Colette Dumay, Eric Lefebvre
Linguistics: Septième – Nathalie Fournier, Émilie Robertson, Sophie Rhéaume, Marc Grandmont, Carol-Ann Savick
Media agency: Cossette Media
Media: Alexandre Mateos y Lago, Jean-Sébastien David
Production house: Les Enfants
Photography: Olivier Staub
Production: Stéphanie Beaudin
Production manager: Léonard Sarran
Coordination: Audrey Martin
Art direction: David Pelletier
Makeup: Joan-Patricia Parris
Post-production: Visual Box
Sound studio: Cult Nation
Creative director: François Bélanger
Sound Designer: Théo Porcet