SAAQ chips away at drugged driving
Lg2 cooks up a bag of potato chips that taste like an auto accident: blood, asphalt and metal.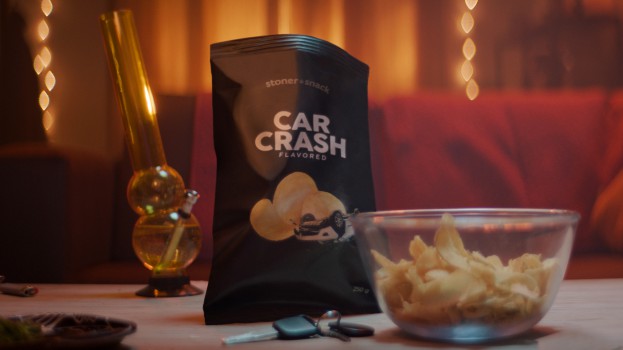 Société de l'assurance automobile du Québec's (SAAQ) latest attempt to stop young drivers from getting behind the wheel after consuming cannabis takes advantage of their munchies.
The stunt is part of the organization's larger "Impaired Faculties" platform, and it was developed in collaboration with Lg2 and custom food manufacturer Foodarom. It features a bag of potato chips with a unique flavour – "auto accident" – that purports to taste like blood, with a hint of asphalt and metal.
The SAAQ is using the chips as part of a larger social media strategy that incorporates influencers including Fruiter, Adamo and Claude Bégin – as well as  blog network Narcity – to raise awareness among young drivers, primarily 16 to 24 years old, about the dangers of driving while high.
"We all know that cannabis makes you hungry and that driving while under its influence is dangerous," said Félix-Antoine Belleville, a copywriter with Lg2. "We wanted to create a food experience that takes away the taste for driving high and allows you to experience the consequences of drugged driving without the danger."
The campaign will run over the holiday season, through to Jan. 2.
Credits:
Clients: Société de l'assurance automobile du Québec – Patrice Letendre, Anne Marcoux
Vice-president and creative director: Luc Du Sault
Concept-writing: Félix-Antoine Belleville
Artistic director: Vincent Bernard, Nicolas Poulin
Strategy: Alexandra Laverdière
Service -conseil: Alexandra Laverdière, Camille Savard, Rose-Marie Soucy
Agency production: Mélanie Bruneau, Emmanuelle Bérubé, Stéphanie Gagné
Computer graphics production : Sylvain Grégoire
Production direction: Julie Pichette
Traffic manager: Camille Dalcourt
Director: Nova Film – Nicolas Brassard-Asselin
Maison de prod. / production: Nova Film – Charles Gaudreau, Camille Perras, Jason Rancourt, Anna Charbonney
Director of photography: François Gamache
Post-production: Studio Élément
Sound / engineering studio: BLVD
Flavor designer : Foodarom
Media: Touché!