Beau Lake finds purpose in late-night "thirst"
Open uses spicy texts and social posts to raise awareness for its purpose-driven reusable water bottle.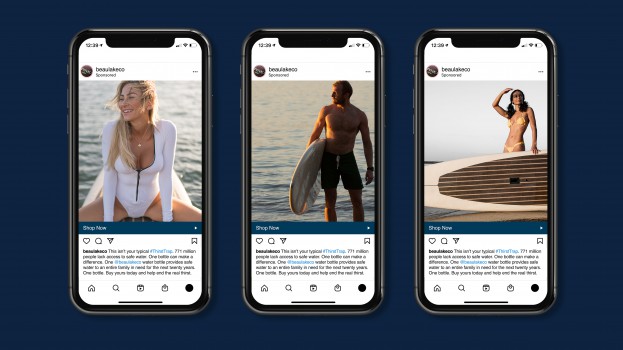 If you're tired of receiving those obnoxiously thirsty "u up?" texts in the middle of the night – or maybe you just feel like doing some good around the holiday season – you might be interested in a new campaign from Beau Lake.
The brand, known as a retailer of boats, paddleboards, and waterside apparel and accessories is promoting its "Access-to-Water" reusable bottle with a new campaign from creative agency Open that taps into those thirsty texts – and a social media trend known as the "thirst trap," in which people post attractive photos of themselves in seductive poses to grab the attention of people on the Internet.
But Beau Lake, obviously, isn't looking to bring attention to some visually satisfying physiques. Instead, it's looking to boost awareness of the social message and cause behind its reusable bottle product – for every "Access-to-Water" bottle purchased, a partnership with Water.org sees consumers supporting the non-profit's efforts by providing safe water to a family in need for the next 20 years.
"We believe water is the real luxury of our lifetime. Protecting and sharing it is our greatest calling," said Brad Ariss, marketing manager for Beau Lake. "This bottle is just one of the ways we hope to make a real difference in the global water crisis alongside our charitable partners."
Credits:
Client: Beau Lake
CEO, Co-Founder: Paul Lavoie
Marketing Manager: Brad Ariss
Creative Agency: Open
Partner, Creative: Martin Beauvais
Partner, Strategy: Christian Mathieu
Design Director: Jessica Rogers
Art director: Eric Fern Carriere
Copywriters: Stephen Yu, Emily Ferraro, Alexandra Stadnik
Director, Client Service: Anne Ngo
Editor: William Wallace