Responsible Gaming Council gets gamblers to be mindful
A campaign by Zulu Alpha Kilo uses the tropes and language of meditation apps to think before putting money on the line.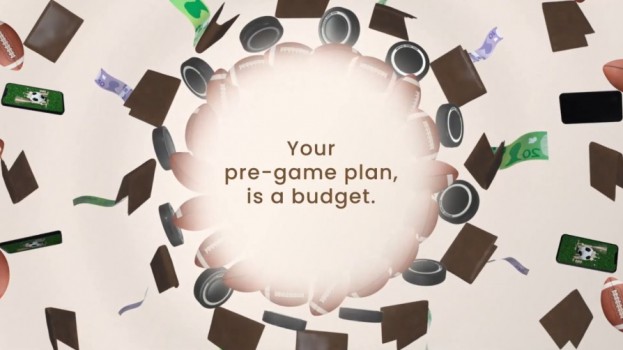 Things are easier to manage when you plan ahead.
That's the crux of a new campaign from the Responsible Gaming Council (RGC) and Zulu Alpha Kilo that urges prospective gamblers to take a moment and think before putting their money on the line.
The "Mindfulness Before Gambling" campaign co-opts the language and tone of a trend in mobile apps to convey the simple message to its audience. As such, the soothing voiceover, instrumental music and other tropes of the mindfulness genre are all present in the creative, which spotlights the different risks people can face when gambling and ways to plan for them.
Among the situations spotlighted by the campaign are gambling under the influence of alcohol or cannabis, placing bets to keep up with friends, or chasing the thrill of betting on a big game or a lucky feeling.
"Our goal with this campaign was to build on the concept of having a plan to promote safer play," says Elaine McDougall, director of marketing and communications at the RGC. "There are many different audiences to consider and contexts in which people gamble, and this series of mindfulness content helps RGC speak to them in an always-on way."
The spots are running on YouTube, Facebook, Instagram and theScore, with audio ads running on Spotify. The ads direct Ontarians to a microsite that reinforces the need to have a plan before gambling.
The campaign will run until the middle of February.
Credits:
Client: Responsible Gambling Council
Agency: Zulu Alpha Kilo
Chief Creative Officer: Zak Mroueh
Executive Creative Director: Brian Murray
Group Creative Director: Gerald Kugler
Art Director: Duncan Porter
Writer: Jane Murray
Clients: Elaine McDougall
Account Team: Alyssa Guttman, Alexa Macdonald, Amy Nguyen
Strategy Team: Heather Segal, Spencer MacEachern
Head of Digital: Sean Bell
Producers: Teresa Bayley (videos), Kenneth Haz (landing page)
Audio Production House: Imprint Music
Audio Executive Producer: Houng Ngui
Voice Director: Tim White
Voice Actor: Scott Yaphe
Digital Imaging: Creasenso
3D Animation: Maxime Bousquet