Camtel isn't Blue about its new brand's design
Why Cossette Montreal leaned into all the upsides of the signature colour for the Cameroonian telco.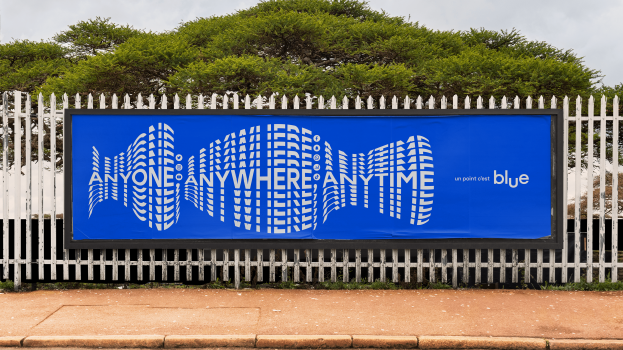 There are a lot of differences between Cameroonian and Canadian culture, but when it comes to telecommunications marketing, there is one noteworthy similarity: brands are often identified by a primary colour.
In Canada, those include Bell's blue and Rogers' red. In Cameroon, those colours are sometimes represented in the brand's imagery – and sometimes, it's right in the brand's name. That is the case with a new brand, developed by Cossette Montreal, for Cameroonian telco Camtel, called Blue – which unified its commercial services under one banner. But Blue is not only the primary colour already associated with parent brand Camtel, it's also a name that's heavily driven by symbolism.
"The choice of Blue wasn't left to chance by the clients. Cameroon is a coastal country that benefits from direct access to natural resources," explains Miriam Bousquet, product manager for Cossette Montreal. "Blue represents the sea and the sky, and it's also symbolic of hope and optimism for the future."
The choice of colour also helps Blue stand out against the African landscape, says Richard Belanger, the CD who worked on the project.
The exercise is significant because Camtel – and, by extension, Blue – is the only 100% Cameroonian-owned player in the country's telecommunications industry.
"Its implimentation means a lot for African technological independency," explains Belanger. "The idea of having a very positive and modern Africa was core to what we wanted to do for the branding. There was a notion of having a brand that's very modern but true to its roots, and that's a key element for us that allowed us to mix the digital culture with traditional motifs."
Those motifs include the "sound wave" pattern used with the display font in some of the imagery for the rebrand. By tapping into those motifs, Cossette was able to create a look that is both scalable and translatable across mediums, from static to digital.
While the trend of associating telcos with colours is a common thread between Canadian and Cameroonian cultures, there were other quagmires that Cossette had to avoid – including the use of certain colours or motifs that could have a very different meaning in the Cameroonian context.
"It's a totally different culture, extremely interesting, but totally different. What we know is that we don't know everything about Cameroon, Africa, their history, their mindset. We have to move forward with a North American approach that installs effective and compelling creative and strategic mechanisms for the brand, while being very nuanced and delicate in our approach to the notion that we don't know everything," said Bousquet. "Colors or symbols for us that seem commonplace could be offensive or perceived in a pejorative way. Africa as a frame is super inspiring, we see colors, patterns, fashion, art, but everything has a great symbolism and this symbolism is important to respect."