Pain relief brand Rub A535 seizes a viral moment
The company gifted internet-famous exhausted shoveler Carter Trozzolo its new kids' product (and a snowblower).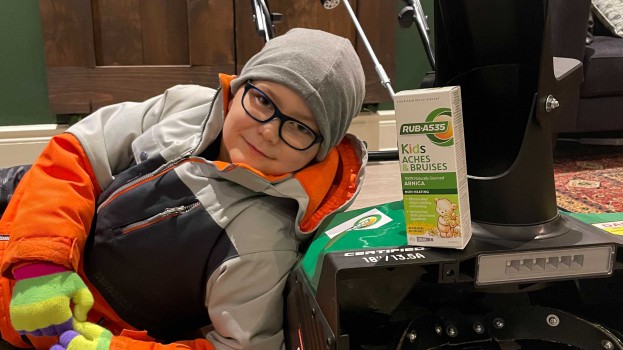 Heavy snowfall and a whole lot of shoveling left Toronto's Carter Trozzolo feeling exhausted when local news talent stopped him for an interview a few weeks ago. He didn't know it then, but his loud sigh and declaration of tiredness has since become an internet sensation – and it's that cool fact that caught the eye of Canadian pain relief brand Rub A535.
In response to the viral video, the brand supplied Trozzolo with a care package including a hat, gloves, and some packages of its new Kids Aches & Bruises Cream. Oh – and a snowblower.
"As a proud, Canadian brand, we know the pains of winter," said Angelique Sturino, brand manager for the pain reliever. "Carter's interview resonated with all of us! The least we could do was to bring him some relief for all of his hard work."
The stunt is intended to draw attention to the RUB A535′s new product and is a different approach for the brand, which traditionally focuses its marketing on Boomers, its core demographic. And, at least according to Carter's mom, Rachel DiSaia, it might just be working.
"I had no idea that there was a naturally-sourced Rub A535 product for children," DiSaia said. "I'm thrilled to have something that they can use for their tired muscles."