Have a Molson in the morning with its line of maple syrup
The brewer finds its way into breakfast, when most Canadians will cheer on Olympians in Beijing due to the time difference.
Strange product hybrids seem to be all the rage these days, and Molson has created its own offering with beer-infused maple syrup that ensures the brand still has a place as people catch up on the Winter Olympics.
By playing on a food closely associated with Canada, the product is being billed as a new way for Canadians to cheer on Team Canada at the Beijing 2022 Olympic Winter Game over breakfast – which many of them may be doing anyway, as the bulk of events and medal ceremonies take place between 5:00 a.m. and 10:00 a.m. local time.
The brewer's wake-up call comprises three different grades of syrup, each inspired by one of Molson's brews. Dark Grade uses Quebec maple syrup infused with Molson Export, the Amber Grade is infused with Molson Canadian and is more full-bodied flavour, and the Golden Grade is infused with Molson Ultra and has a lighter taste profile.
Produced by Quebec-based maple syrup producer Bretelles and devised by agency partner Rethink, each can of Molson Maple Beerup is 540 mL and contains less than 0.05% ABV so you're only left buzzing because of exciting Games performances.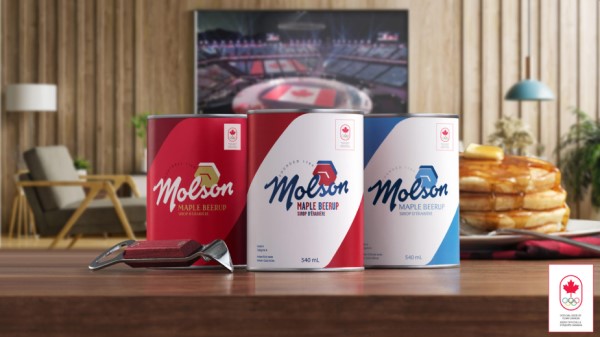 "As a long-standing and proud partner of Team Canada, Molson has been there for some of the most iconic athlete and fan celebrations of all time," says Katie Rankin, senior marketing manager for the Molson family of brands. "These Winter Games are no exception. We're still supporting Team Canada and Canadians can still rep our home with a Molson in hand, even if at 5:00 a.m."
Consumers can enter for a chance to win their own can of Molson Maple Beerup until Feb. 17. For every contest entry received, Molson will donate $5 to the Canadian Olympic Foundation in support of Team Canada athletes, up to a maximum of $10,000 CAD.