McCain and Kraft Heinz have been getting flirty on social
The CPGs have set their popular fry and ketchup brands up on social media, resulting in some comical displays of affection.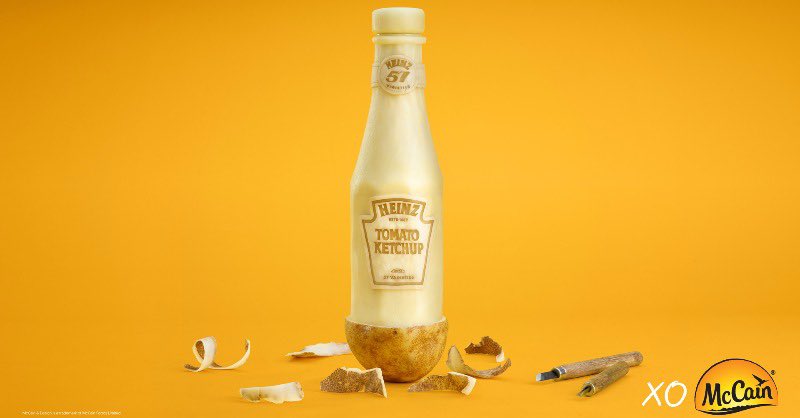 Romance is a tricky thing at the best of times. You've got to know who you're wooing and speak their love language. That is, except when you're one of two major food brands.
What started as a casual flirtation has exploded into a full-on fling as McCain fries and Heinz Ketchup are publicly declaring their love for each other ahead of the most amorous day of the year.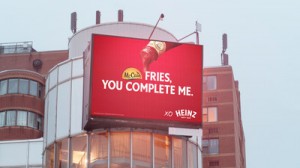 It began Feb. 1, when the brands unfollowed everyone on Instagram – except for one another. Next came posts featuring heart-shaped tomatoes and potatoes carved into the likeness of a Heinz ketchup bottle.
But this is more than just your typical brand-to-brand flirtation (or, more accurately, the often cringey and oblivious ways brands try to get attention by tweeting at each other). Now the brands are putting their money where their mouths are to shout their love for one another from the rooftops – using billboards planted on their respective corporate headquarters in Toronto, of course.
It's clear that at least during the season of St. Valentine, these two want to become a culinary power couple.
"Things seem to be moving really fast for this couple. Which is funny, because Heinz Ketchup is notoriously slow," said Daniel Gotlib, associate director of brand building and integration for Heinz.
"Fries and ketchup are at the height of their power together," adds Matt Kohler, managing director of Canada retail with McCain. "They bring to mind history's most compelling couples: they're great on their own, and unstoppable together."
We guess you could say it was love at first bite. But like many good couples, the two brands were set up by a common acquaintance: Rethink, the creative agency on the campaign and which counts both brands among its clients.
Credits
Title: The Ultimate Power Couple
Client: McCain Foods Canada & Kraft Heinz Canada
CCO: Aaron Starkman
ECD: Leia Rogers / Mike Dubrick
Date of First Appearance: February 1, 2022
CD / Art Director: Zach Bautista
ACD / Art Director: Grace Cho / Jake Hope
ACD / Writer: Cam Spires / Geoff Baillie
French Writer: Karine Doucet
CSO: Sean McDonald
Planning Director: Darren Yada
Strategist: Sam Massooleh
Agency Producer: Claire Khan/ April Haffenden
Photographer: Clinton Hussey
Studio Artist: Jonathan Cesar
Editor: Thomas McKeen
Props:
Nick Melchin: Pro Modelbuilders
Lynne Gonzaga: Strategic Lift
Account Services:
Kraft Heinz
Karlee Bedford – Group Account Director
Kai de Bruyn Kops – Account Director
Emily Anzarouth – Account Manager
McCain Foods Canada
Sarah Riedlinger – Group Account Director
Elsie Blackman – Account Director
Michelle Rupisan –Account Manager
PR:
McCain Foods Canada: Rethink
Kraft Heinz: Middle Child