Mom is tired of getting screwed on Valentine's Day
Fierce Mamas and Stop The Party made Valentine's cards that are blunt about how women feel about the pay gap.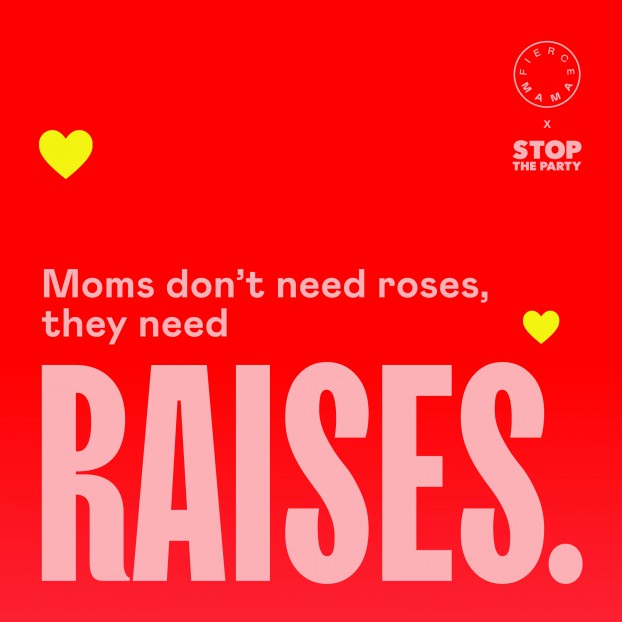 Since 2018, Fierce Mamas have been using their skills honed in Canada's ad industry with Mother's Day cards that draw attention to things like the inspirational work they do pursuing their careers while raising a family – or, as seen during the pandemic, acknowledging the added stress they are often asked to carry.
But to mark Valentine's Day this year, the group – Kammy Ahuja, Kimberley Pereira, Lindsay Di Tolla, Rica Eckersley and Alexis Bronstorph – are turning their attention to something that shouldn't be celebrated.
The group behind Fierce Mama Cards teamed up with Stop The Party – an initiative founded last year by a separate group of women in advertising, Hanna Bratt, Lindsay Hutchison, Erika Maginn, Ashleigh McEwan, Kate Qually and Yvette Reitnerto – on a series of cards addressing the issue the latter group was created to fight: the pay gap.
Stop The Party's goal is to fight wage gaps for all women, but the cards bring a particular focus to the struggles mom face. With slogans like "moms don't need roses, they need raises," and cheeky poetry like "roses are red, violets are blue, when it comes to equal pay, why are moms getting screwed?" the cards take an appropriately blunt approach to accurately reflects the frustration working moms feel at the lack of fairness in their wages. They also drive people to Stop The Party's website in an effort to get more people to sign the group's pledge.
"We'd been thinking about doing a Valentine's Day card collection for awhile," says Ahuja, who points out that fighting the pay gap is a cause that makes particular sense for Fierce Mamas to take up – the 25% gender pay gap is more extreme for moms, who actually tend to be paid less than other working women. "It's a cause that's near and dear to our hearts and we were excited to be part of an effort to combat it. We loved that there was an opportunity for our two groups with a similar, but not identical audiences and objectives to work together toward a cause that is meaningful to all of us."
"We have a lot in common," says Maginn. "The women behind both initiatives are all advertising professionals who have seen how women aren't always adequately or accurately represented out in the world. Both initiatives were created to address that void."