Pinball Clemons Foundation looks for the right bounce
A new ad from Fuse Create uses the game as a metaphor for the instability some youth experience in life.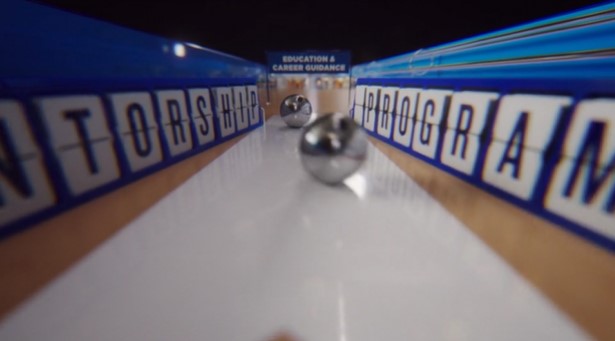 If your foundation's namesake has the nickname "Pinball," it makes sense to use the game as a metaphor for how youth are bounced around without order or structure, and potentially pushed to the margins without proper interventions.
Fuse Create has a new campaign to support the Pinball Clemons Foundation (PCF), a non-profit founded by former Toronto Argos player, Michael "Pinball" Clemons. PCF's aim it is to offer under-serviced youth mentorships and educational resources, with the ultimate goal to see youth successfully enter the workforce.
A new campaign video, directed and animated by Andrew Embury of Yellow Lab, illustrates the twists and turns marginalized youth face, first in a wooden maze, then on a pinball table, in an effort to illustrate how donations can help make a difference.
"We needed to simplify the Pinball Clemons' Foundation's multifaceted approach," says Patrice Pollack, CD at Fuse Create. "Through storytelling and the visual metaphor of a pinball machine – yes, we went there – we were able to illustrate the complexity of the problem and the impact of the solution."
So far, PCF has mentored 10,000 youth, and also offered 130 scholarships and 300 bursaries. The campaign is specifically geared towards attracting new monthly donors in an effort to continue and expand on that work.
The project is a collaboration between PCF and Fuse Create, with major contributions from Yellow Lab and TA2 Sound and Music to bring the animation and audio to life, respectively.