Beneva shows off its benevolence
Lg2 looks past accidents and claims to show that the insurer is staffed by good people.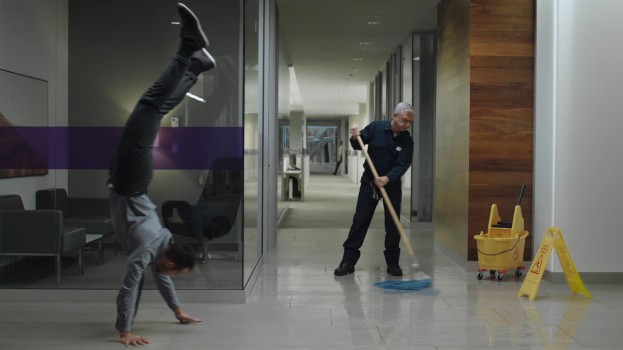 Considering the hoops that are sometimes needed to file a claim, insurance companies might not be the first thing that comes to mind when thinking of "good people."
Beneva was created back in 2020 following the merger of La Capitale and SSQ Insurance. Since then, it has been working with agency Lg2 on developing the best way to get its offering – and new brand – in front of Canadians.
The result is the "Good People" platform, which aims to show that Beneva will go to great lengths to protect its clients by showing the same extremes they go to every day to just be nice to each other.
After a brief introduction from Beneva clients, the ads shift to the inside of Beneva's offices to show a whole range of excessively benevolent workplace behaviour. This ranges from walking on their hands to not dirty a freshly mopped floor, to barbecuing food outside so the lunch room doesn't smell like fish, to someone literally giving a co-worker the shirt off his back.
The campaign not only tries to make potential clients feel confident about how they'll be treated by Beneva – and correct a perception problem in the industry – but use kindness as a differentiator in the insurance category.
"We wanted to move away from the category's usual 'entertaining disaster' angle and instead focus on the brand's core attribute: caring," says Éric Chavagnac, creative director at Lg2. "It was an easy jump from there to making employees the ambassadors. All we had to do was add some good-natured humour to their innate kindness and professionalism."