Color Cannabis meets colour theory
The brand's refresh and new campaign aims to tie how its products look with how they make you feel.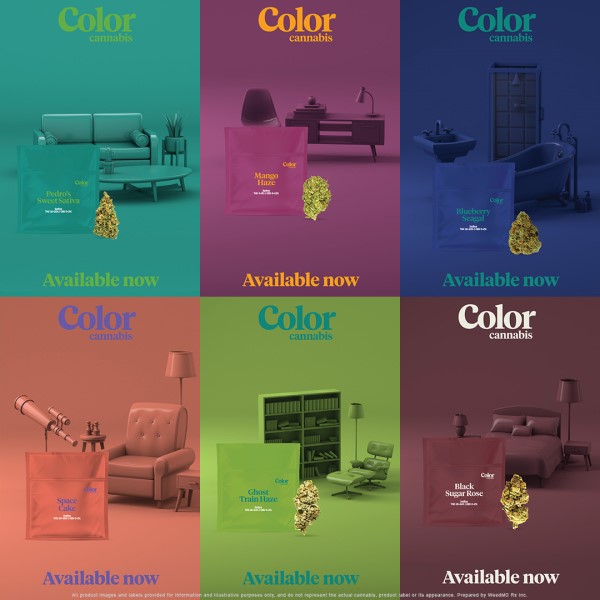 Color Cannabis is refreshing its brand, using colour theory to create stronger associations between different hues and mood states.
The cannabis brand's packaging is meant to correlate each colour with a particular strain and its potential effect on moods, like greens and blues for soothing and calming strains, or oranges and purples for strains that are meant to be more uplifting and energizing. To make the subconscious effect a little bit more apparent, the new look launches alongside the new "Just Add Color" campaign, which shows each colour/strain combo in situations associated with each mood, like a relaxing bath. Color's in-house team worked with Scale Projects on the new effort.
Nikki Thomas, senior marketing manager of commercial brands at parent company Entourage, says Color has already been recognizable in retail with vibrant packaging, but was looking to more explicitly tell the story of its approach.
In 2020, Color Cannabis explored this thematic idea via "Add a Little Color to Your Cooking," an Instagram-downloadable recipe book that features different strains, with instructions on how to make cannabis-infused butter or oil and incorporate it into meals and baked goods.
Since launching its Color Cannabis brand in 2019, Entourage has enhanced its premium positioning, informed by customer feedback. The company says that recent retail data puts Color at number 12 in terms of total Canadian sales (according to Buddi Data), and Color experienced major growth in the premium flower and pre-roll market segments in 2021, representing a 535% sales increase over the prior year, with a 2.1% total market share (according to retail platform Hifyre Data).
Packaging has been a key part of that premium positioning. In 2020, Entourage introduced nitrogen-infused pouches in all its flower products, a move meant to amplify freshness and become more sustainable, reducing packaging waste by over 80%. In 2021, the company introduced terpene labels on all its Color packages and added Boveda terpene-shield packets to protect the aromas of its dried flower products. With this 2022 refresh, Entourage is also adding information on its Color packaging about its curing and trimming practices.