Cirque du Soleil creates a 'curious' hotel room
A steampunk-inspired room, designed to help promote the new "Kurios" show, is opening at Toronto's Hotel X.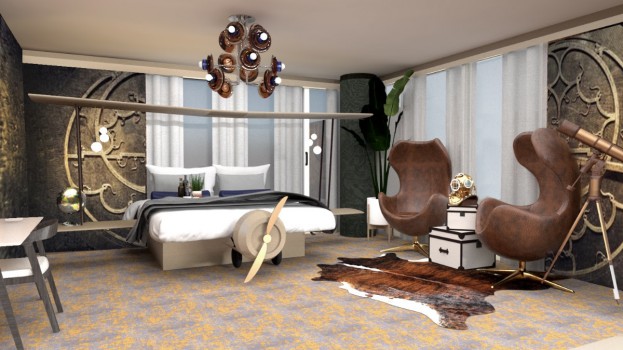 If you're a fan of the steampunk aesthetic, a new partnership between Cirque du Soleil and Toronto's Hotel X just might ensnare your interest.
Designed to promote Cirque's current show, "Kurios – Cabinet of Curiosities," the hotel has converted one of its corner king suites into a theme room designed by Canadian interior designer and TV personality Shai DeLuca.
The room showcases much of the same style as the Cirque program, featuring a custom-made king bed designed to resemble a vintage propeller airplane, Kurios-inspired wall decor, steampunk furniture pieces and a unique light installation. The goal is to transport guests into a retro-futuristic world – and if that sounds a little oxymoronic, you're just not steampunk enough.
"When I saw the artwork for Kurios, I was immediately inspired by the aesthetics of that period genre. I knew that I wanted to play off the innovative, yet fantastical, architectural style, and art," said DeLuca. "As you lay in the custom-built bed, let the room transport you to the world of Kurios."
The Kurios suite is available for bookings between April 14 and July 17, with nightly rates starting from $549 plus applicable taxes and fees. The stay includes a Kurios-themed special amenity, complimentary parking for one vehicle, and preferred ticket pricing for the Cirque show. Reservations can be made through Hotel X's website.