Children of the Street urges parents to have the 'talk'
A campaign by Will aims to show how one conversation can protect kids from online predators.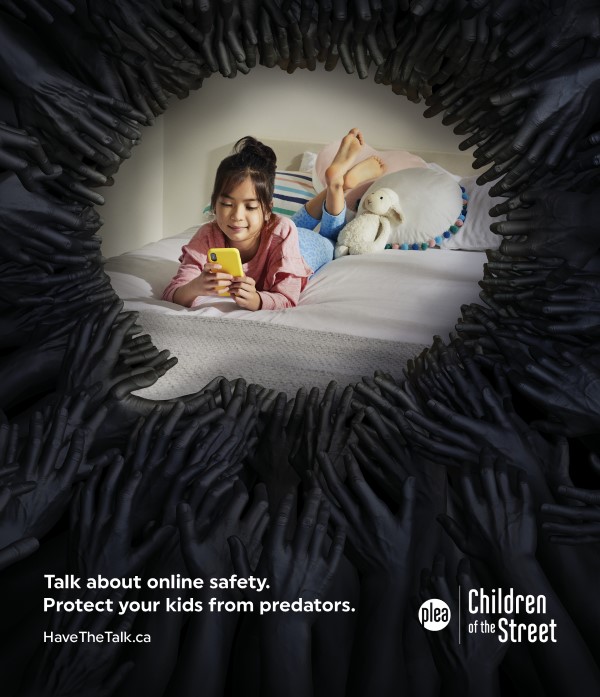 An ominous new campaign is using grasping hands to warn of the dangers of child predation.
Vancouver's Children of the Street, a program working to prevent the sexual exploitation of children and youth, partnered with creative agency Will to launch a new campaign encouraging parents to talk their kids about online safety to stop predators.
The campaign consists of a series of OOH, social and video ads that show a speech bubble protecting a child from encroaching hands, and the timing coincides with the uptick in social media use that's happened during COVID lockdowns.
According to United Nations insights, on any given day 750,000 individuals are online trying to connect with children for sexual purposes.
"This year, we wanted to focus on the scale of the issue," according to Will ECD Lisa Lebedovich. "It's not just a few bad people online – it's an army of them. But more importantly, we wanted to highlight how one conversation about online safety has the power to protect vulnerable kids from online predators."
While parents are increasingly aware of the growing problem of online sexual exploitation is growing, many remain unsure what actionable moves they can make.
"The reality is online exploitation can happen even if parents are in the same room as their children. Supervision and safety features aren't a replacement for talking to your kids about online safety and what to watch out for," says Jen Graham, communications manager at Children of the Street.
The eight-week campaign, which runs in Greater Vancouver, directs viewers to the campaign landing page, where parents can learn how to start the online safety conversation with their kids.
PLEA's Children of the Street program offers children, youth and adults the information and tools to keep young people safe from all forms of sexual exploitation. Its initiatives engage a diverse range of individuals and groups throughout the province and, with over 500 workshops in approximately 30 British Columbia communities.