Earth Day prescribes a day off to remedy eco-anxiety
Sid Lee's campaign shows how taking a time out can be good for both an individual's health and the planet's.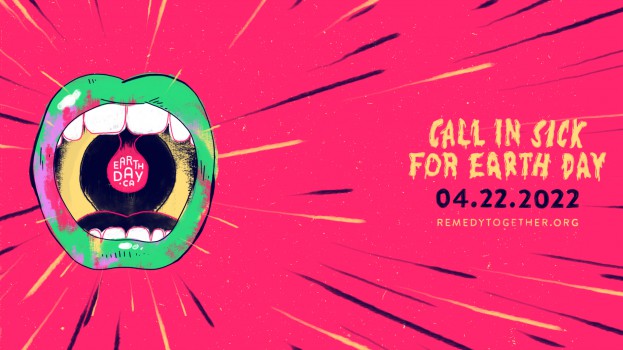 Canadians rarely get permission to take a sick day when they don't need it, but Earth Day Canada – the non-profit that organizes activities around the day every year – is giving them license to do just that on April 22.
The green light is granted as part of Earth Day Canada's new campaign, "Remedy Together," which was developed with creative agency Sid Lee. The crux of the campaign is that, according to a Leger survey conducted in March of more than 1,500 Canadians, 45% are living with "eco-anxiety" – that is, "a state of deep distress caused by perceived irreversible changes in the environment."
As conversations about mental health have become more accepted, more Canadians have been using sick days as an opportunity to also take care of their mental well-being. With climate anxiety being a significant source of stress, the campaign casts taking a sick day on Earth Day as part of that movement. And it's not just to take a break – the campaign encourages people to use the day to participate in Earth Day activities, which can help them feel like they are doing something to help the planet.
"Feeling powerless is one of the main symptoms of eco-anxiety," explains Kristian Manchester, global ECD at Sid Lee and a member of the Earth Day Canada board. "With the invitation to take a sick day, we wanted to offer an opportunity to soothe eco-anxiety with concrete actions: group therapy, going to conference, or other initiatives like participating in a clean-up. This mobilization campaign offers a support platform and a way to transform despair into collective healing."
"Given the current situation, acknowledging those feelings, coming together and taking action on April 22 is the thing to do to take care of ourselves and the planet," adds Valerie Mallamo, CEO of the organization.
If they want to participate, Canadians are invited to visit a microsite created specifically for the initiative, where they can register to call in sick, complete with a form letter to send to their manager. The effort is being promoted with online and social media ads in Canada, as well as being exported to Brazil and France.