Razom imagines if the CN Tower went up in flames
Tank and Grey created scenes of Canadian landmarks ravaged by war to motivate donations to Ukrainian relief efforts.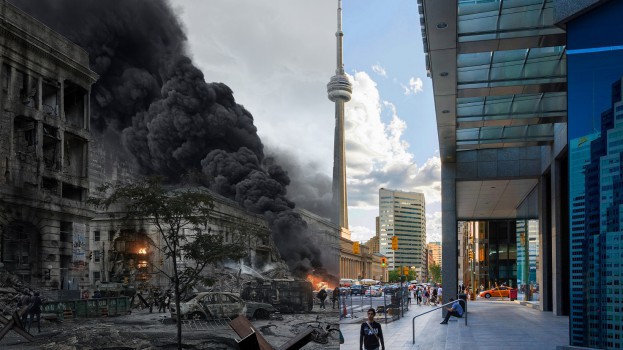 Could you imagine a famous Canadian landmark, such as the CN Tower, hit by Russian bombs?
That was the provocative question asked by Ukrainian President Volodymyr Zelenskyy in his speech to the Canadian Parliament on March 15 – and it is the core thought at the heart of a new campaign from Razom, a nonprofit organization founded in Ukraine in 2014, to raise funds for medical and humanitarian aid during Russia's war within the country.
Zelenskyy's comment "inspired our team to show Canadians what it would look and feel like if we were under siege and our cities were being destroyed," said Marty Martinez, CCO of Tank Worldwide, which worked with sister agency Grey Canada to develop the campaign, which features striking before-and-after imagery of Toronto and Montreal as we know them today, and as they might look if they were attacked.
The campaign includes OOH, social, online and PR elements that have launched in Canada and will launch in the U.S. (featuring a before-and-after image of New York City). People can find the visuals on a special microsite or by scanning a QR code at transit stops.
The work was done pro bono. "As an industry, we have a voice and a public platform, and therefore also an obligation to craft powerfully effective messages for good, that can have direct impact on human lives," said Mark Mason, ECD of Grey Canada.
The campaign creative urges Canadians to show support through engagement by using #FeelWhatWeFeelEveryDay on their social media and linking back to the microsite, which prompts people to make donations to Razom's relief efforts, which focus on the delivery of an average of 50 pallets of aid to Ukraine weekly, including medical items, hospital supplies and tech-enabled emergency response devices, said Theodora B. Chomiak, the organization's president.