A pint of Belgian Moon you can't drink
The beer brand has released paint colours to encourage employees to reclaim their own spaces after years of working from home.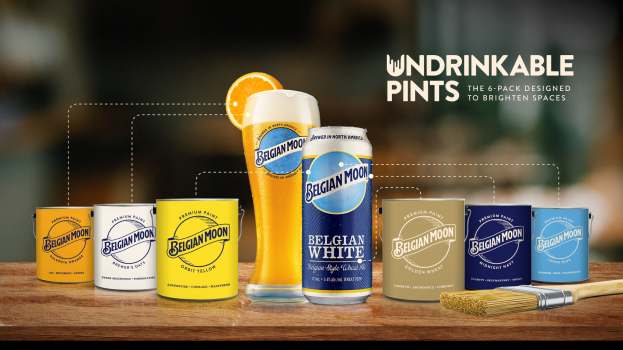 The return to the office has sparked a heated debate about what the future of work should look like – and whether or not employees even need an office to do their jobs anymore.
But beer brand Belgian Moon is looking to cool things off a little bit with a new promotion that it calls "Undrinkable Pints" – a collection of six paints inspired by the brand's signature hues, designed in consultation with a colour therapist to help lift the moods of people who come into contact with them.
Among the colours in this six-pack are "Lunar Blue," a light blue shade that encourages productivity, and "Orbit Yellow," meant to soothe work anxieties. All of the colours are inspired by Belgian Moon, either being pulled from its package design or from a pint of the beer itself: "Brewer's Oats" is the same colour as the beer's foamy head and "Valencia Orange" comes from its traditional garnish.
Created by Citizen Relations, the paints are intended to help people reclaim their own spaces after years of using them for a home office, and the brand will be promoting them via its social channels – namely Instagram and Pinterest – starting May 12. Citizen Relations is also handling PR for the campaign, with media by Wavemaker and Volt handling social.