Justin Bieber loves Tims (and Pam)
A video promoting "Biebs Brew" has the pop star once again giving his all to make sure the collaboration is up to his standards.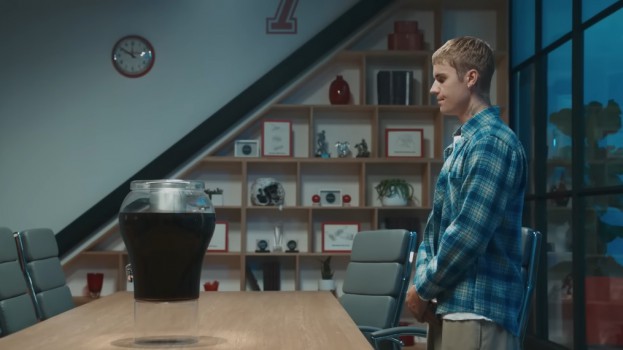 Tim Hortons has brought back its Pam character in a new video with Justin Bieber to promote their "Biebs Brew" collaboration.
The video shows Bieber and Pam – who previously helped out on the R&D process for "Timbiebs" – discussing the new french vanilla-flavoured cold brew coffee product, which will be available in its restaurants on June 6. Bieber is preparing to oversee the process of steeping "Biebs Brew" and make sure it is up to his standards, despite the fact that it takes 16 hours. As he sets himself up for a long night, Bieber's word reveal how much he loves his Tims – and the people involved in making it.
The product was first announced last month with a soft launch teaser over social media that drove to a microsite featuring a 16-hour countdown, referencing how long takes to steep the "Biebs Brew."
This is the second collaboration between the QSR and Bieber after the wildly successful "Timbiebs" line of Timbits flavors launched last year. New elements of the "Biebs Brew" campaign, playing off the time to steep the coffee with its vanilla flavour, will continue to roll out across OOH, radio, digital and TV in the lead-up to the product's launch.
The "Biebs Brew" spot was led by Gut on creative and production, while Media.Monks and Horizon led the buy on digital and traditional platforms, respectively. Craft handled PR and The French Shop provided ad support in Quebec.
The new video released on the same day that an investigation by four privacy commissions in Canada found the QSR chain had violated privacy laws with respect to how its mobile app tracked, collected and used location data.