Turkey Farmers wants you to join the club (sandwich)
Zeno's new campaign features veggies proclaiming how much they love working with bird protein.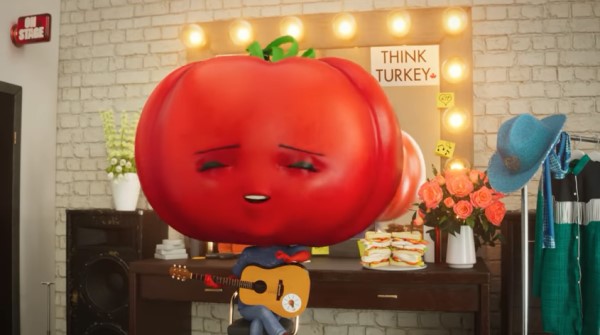 Veggies are singing the praises – sometimes literally – of turkeys in the last campaign by Turkey Farmers of Canada.
The latest by Zeno Group in the "Think Turkey" campaign features different colourful, animated spots starring a crooning tomato backstage, a carrot pumping iron and a romaine lettuce cultivating their garden, all of which push protein's versatility with complementary vegetables, from a turkey club sandwich to one ingredient in a salad
The campaign is seizing on an opportunity to position turkey as a lean and versatile protein that pairs best with veggies, and builds on last fall's comical positioning in a meme-influenced campaign built around people's disappointed reactions to protein alternatives.
The 12-week national campaign featured TV, online video and VOD ads, as well as a PR and social campaign with celebrity chef Chuck Hughes who will provide turkey and vegetable lovers with a collection of fresh new recipes.
"Think Turkey" is a five-year marketing campaign by Turkey Farmers of Canada and the Canadian Poultry & Egg Processor's Council aimed at raising awareness of turkey as a delicious and lean everyday protein option for Canadians. The organization previously aimed to grow share by getting consumers to see the protein as a year-round phenomenon.