Quebec dairy producers pair chocolate milk and cycling
Agency Bob tried to make the drink top-of-mind as a celebratory post-race beverage.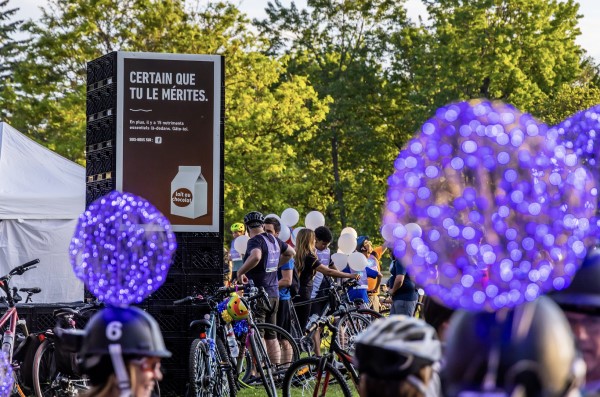 Whether it's the Tour de France or Formula 1 races, champagne is usually the finish line beverage of choice.
However, agency Bob, working on behalf of Les Producteurs de lait du Québec, is positioning chocolate milk as the ideal celebration libation, as the agency was mandated to help activate at two high-profile Montreal cycling events: Tour la Nuit and Le Tour de l'Île.
Les Producteurs de lait du Québec has been the main partner of the Montreal Go Bike Festival for several years, so a sponsorship activation at similar cycling events made strategic sense, and an opportunity to push chocolate milk.
At both events Producteurs de lait du Québec staffers interacted with participants and encouraged riders. That was on top of signage saying "C'est mérité" ("you deserve it") in various parks where Bob handed out samples. A photo area with a large inflatable arch was also set up to take the official event photo to mark the occasion for participants.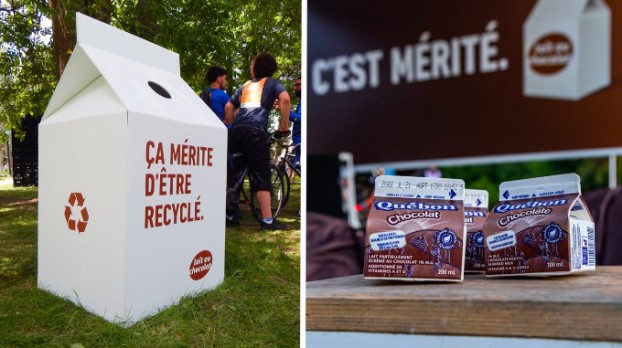 In May, meanwhile, Les Producteurs de lait du Québec called on Bob to engage organic consumers and improve their understanding of what it means to be "organic" as a milk producer.
A jointly developed project was held over in Little Italy's Marché Jean-Talon, one of Montreal's oldest farmers' markets dating back nearly a century.
Visuals were designed to illustrate the daily life of producers and highlight the importance of soil and ecosystem health. Consumers were able to talk directly to a producer and leave with a new perspective, a bag of compost and the chance to enter a draw to win a weekend of "organic living."