Haagen-Dazs hands out samples from a yacht
The ice cream brand leaned into decadence at Toronto's waterfront to push its latest four-SKU collection.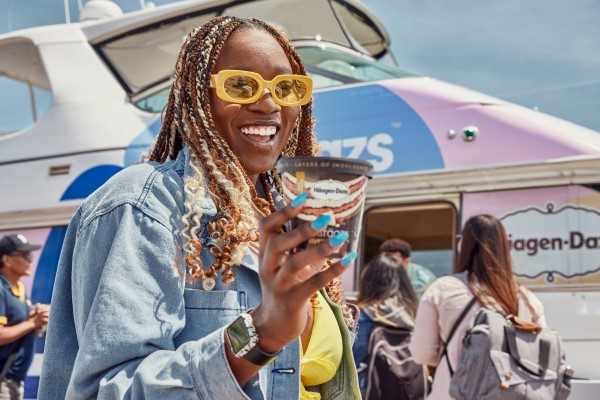 Häagen-Dazs is linking its latest collection to luxury by sampling not from a truck or cart, but from a yacht, part of recent efforts to get the brand to resonate with younger consumers.
At the end of June, the brand unveiled its "exträaz" layers collection of ice cream, including Salted Caramel Chocolate, Berry Explosion, Mocha Cheesecake and Triple Chocolate. And as part of the launch, it put a big twist on a typical ice cream truck sampler, reimagining the experience via its "Häagen-Dazs Dockside" summer event, sailing a 65-foot yacht along the Toronto waterfront, delivering full-size tubs of new Häagen-Dazs exträaz.
The vessel had young urban professionals in its crosshairs, making stops at Polson Pier, Toronto Harbourfront and Toronto Island, and it made itself known by playing an audio track reminiscent of the jaunty ice cream truck jingle.
According to Stacey Marsello, brand manager for Häagen-Dazs at Nestlé Canada, its target demo is craving "a more indulgent experience," and that the sampler was positioned around the Häagen-Dazs creative platform, 'Thät's Dazs,' which reflects a new modernness and vibrancy in the brand.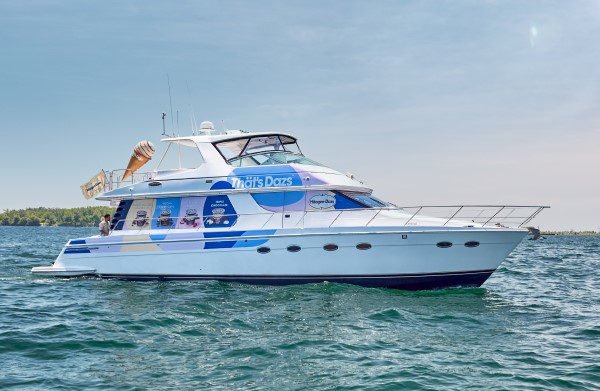 The indulgence/premium-ness factor is being brought to life on pack with the signature black and gold colour palette, gold being a colour scheme it's used of late as part of its experiential activations.
The ice cream brand's exträaz summer campaign is not the first time Häagen-Dazs has actively courted younger consumers: it's come to life with Häagen-Dazs pop-up bars, which also played up the luxury factor as well.
Rethink handled creative strategy and content development for the launch of Häagen-Dazs exträaz, while Strategic Objectives handled PR, media and influencer relations. Thrive Digital was responsible for the media buy.