BMW helps drivers find a lesser-known signature
Performance Art used AI to identify roads shaped like a 60-year-old design feature.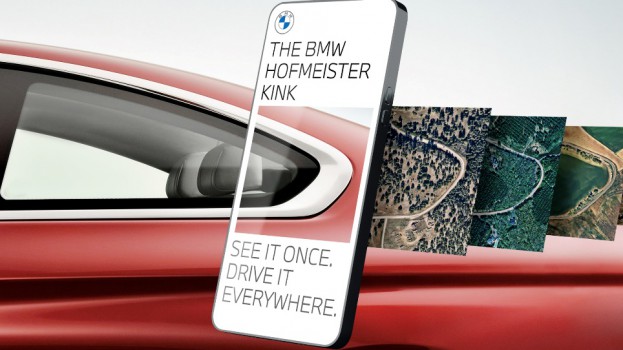 A new initiative from BMW North America will have the automaker's enthusiasts working out some kinks – Hofmeister Kinks, that is.
A little-known design element first introduced in the 1960s, the Hofmeister Kink is located near the base of every BMW vehicle's rearmost pillar. Named for the automaker's design chief at the time of its introduction, Wilhelm Hofmeister, the feature is celebrated among the automaker's biggest fans, but less well-known to the wider audience than its trademark, kidney-shaped grille.
A new campaign employs AI developed with IPG creative agency Performance Art to map out the location of every road in the U.S. that is shaped in a way reflective of the Hofmeister Kink – of which there are more than 56,000. Those locations are mapped out on a special microsite, where users can filter by location or by vehicle model to find roadways shaped like the design flare.
"The Hofmeister Kink represents an important part of BMW's design legacy, a bit of insider info for BMW owners and enthusiasts," explains Kevin Campbell, head of CRM for BMW North America. "The 60th anniversary presents a timely opportunity to celebrate this iconic feature by providing consumers with an engaging platform to drive their own Hofmeister Kink and experience BMW's performance design ethos on the everyday roads near them."
"While trends impact craft, some of the best design is iconic and timeless," adds Ian Mackenzie, CCO at Performance Art. "Beginning with BMW's classic 1500 and on through to today's fully electric iX, the Hofmeister Kink has evolved while simultaneously retaining its signature form. To take that 60-year-strong design feature and unlock new dimensions using today's latest AI technology is pure BMW performance. Put simply: our goal is to help the world re-discover this incredible, iconic brand asset by seeing it with fresh eyes – and then literally driving it."
The Hofmeister Kink campaign launched today and is supported by digital, paid and organic social, CRM and in-dealership promotion.