A new campaign to cut through the bullSHST
The acronym of Timmins' safe injection site is at the heart of a new awareness effort developed in tandem with creative agency The Garden.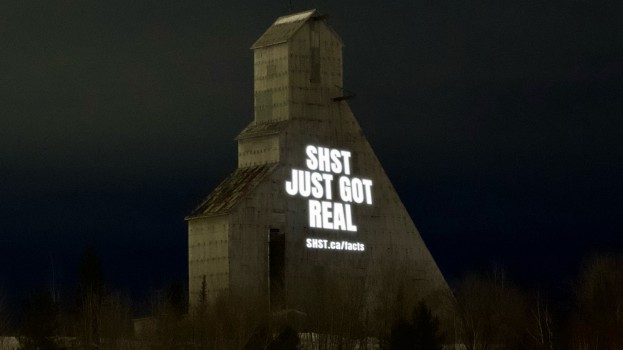 A new safe injection and treatment site in Northern Ontario has launched an awareness campaign designed to educate the local community about how it will help them.
It's called the Safe Health Site Timmins – more commonly known by the acronym SHST – and it's that acronym that the facility and agency partner The Garden have played upon with the campaign, "Know Your SHST." In recent years, the city of 41,000 has been at the heart of the opioid crisis in Canada, with one of the country's highest per capita death rates from opioids (72 people per 100,000) and an 82% increase in opioid-related deaths between 2019 and 2020.
The SHST was opened to address that crisis, but has faced pushback from members of the community who have argued that it will keep people addicted to drugs and serve as a beacon for people who use substances recreationally. The new campaign is designed to counter those claims.
"The opening of this site is incredibly important to our city and a huge milestone in the larger drug strategy," says Dr. Louisa Marion-Bellemare, a local ER doctor who supported the opening of the SHST. "That's why it's so important to educate the community of the benefits and bring people onside, by showing how the site will save lives and open up avenues for people who use drugs, and who are at the highest risk of morbidity and mortality."
Employing a wide array of posters, billboards and social assets, the campaign harnesses the facility's acronym as a stand-in for the word "shit" across a wide array of idioms in which that word appears, such as "Know your SHST," "Let's get our SHST together," "Get a load of this SHST" and "We're the SHST." One of the messages – "SHST just got real" – was projected onto the side of one of the city's most noteworthy structures, the McIntyre Headframe.
"It was highly contentious, because [the Headframe] is usually such a place of community pride, and launching the campaign with such a provocative headline created a lot of opinion," said Lindsay Eady, the Garden's CD. "That tension is what we were going for, and we got it in spades."
The ads drive to a microsite full of myths and facts about safe injection facilities, designed to dispel misconceptions and show how they can benefit a community by reducing ambulance calls and ER visits, and save both lives and taxpayer dollars.