Steam Whistle teams up with a cool customer
The brewer is seizing on Igloo Playmates having a cultural moment by adding a branded cooler to its roster of multi-packs.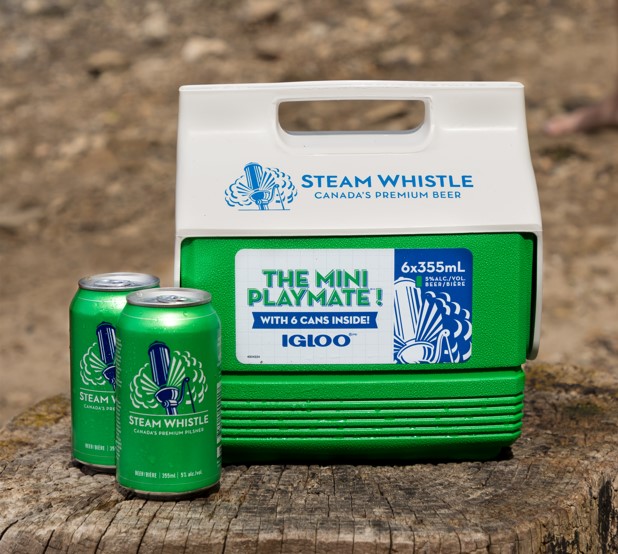 The classic Igloo Playmate – a staple of barbecues and beach trips from many a millennial's youth – is suddenly on trend again. The cooler company's smaller "mini" and "little" lines in particular have the featured street art of of Jean-Michel Basquiat and Keith Haring, as well as collaborations with brands like Volkswagen, Hello Kitty, Toy Story and Star Wars.
But given what goes into a cooler, it only makes sense that brewer Steam Whistle getting in on the action.
Steam Whistle's Igloo Mini Playmate gift packs retail for $29.95 and are now stocked in more than 220 LCBO stores across Ontario and on the Steam Whistle website. Each one contains a six-pack of its pilsner in 355ml cans, an on-trend format among many craft brewers.
"Igloo was a natural fit as a branding partner for Steam Whistle," says Bromlyn Bethune, chief growth officer of Steam Whistle. "The Playmate Cooler completely aligns with our standards for high quality, retro styling and a whole lot of fun."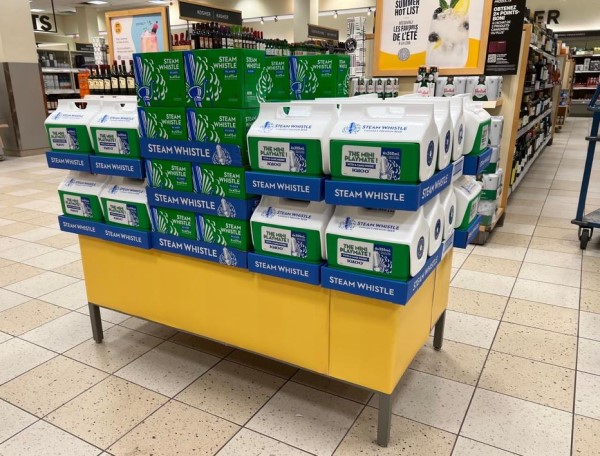 Steam Whistle has a history of bringing its beer to consumers in creative multi-packs that bear its retro branding, like one shaped likes it recognizable delivery truck.
The brewer's in-house team is promoting the Mini Playmate. Steam Whistle says it is promoting the cooler heavily on social, with a digital spend to boost exposure, through its e-newsletter to its regular customer base, promoted on the Steam Whistle e-commerce site and on-site.
The cooler will also be given out at Craft Beer Fest this weekend at Steam Whistle's Roundhouse brewery, which is returning after a two-year hiatus, featuring a dance party and 37 producers.
The brewer not only manufacturers its eponymous brand, it also owns and distributes Beau's All-Natural beers and MTV RTD Hard Seltzer, Juicy Shore. Steam Whistle's portfolio includes partner brands for distribution across Canada such as Fat Tire Amber Ale and Voodoo Ranger IPA from American craft beer partner, New Belgium Brewing; the Sandbagger line of RTD Gin Beverages; and a diverse line-up from Phillips Brewing & Malting Co., including Electric Unicorn.