Evian celebrates mountains with public art
Mint taps into the bottled water brand's origin story while also protecting the B.C. backcountry.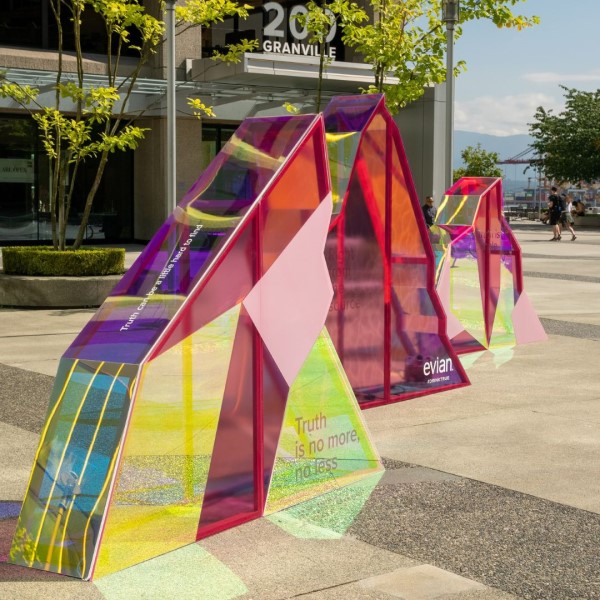 Evian is supporting the preservation of mountain ranges with a colourful art installation in Vancouver's financial district.
The display, at Granville Square, ties into the genesis of the product as natural spring water sourced from the French Alps. It also connects back to Evian's global "Drink True" brand positioning, complete with "truth"-related messaging, which recently came to life with a Dua Lipa collaboration with British tennis phenom Emma Raducanu.
The Danone bottled water brand will also be donating $1, up to $10,000, for every social post of the art installation on Instagram and TikTok to the BC Mountain Foundation. The Foundation is a local non-profit launched in 2018 that aims to preserve and protect the province's mountains, and establish and maintain the network of backcountry trails and cabins in British Columbia through fundraising efforts and partnerships.
Toronto's Mint Agency is providing support for the art installation, in a partnership with Danone the shop announced this past July.
This ladders up to the B Corp's efforts to be "very protective of its water and the environment that provides it, and never takes more than nature can provide."
The Evian brand has three CSR pillars: packaging and recycling, source protection, and climate impact.
In July, Evian introduced its first label-free, 100% recyclable and 100% recycled bottle (cap excepted). And 25 years ago, it co-founded the Association for the Protection of the Evian Mineral Water Impluvium (APIEME) with 13 other municipalities, which helps convert organic farm waste into natural fertilizer used by local farmers. In April 2020, Evian was globally certified as carbon neutral by Carbon Trust.
At the end of July, Danone raised its full-year sales guidance amid strong demand for bottled water even after the company increased prices.