An obituary runs for a Magic: The Gathering character
Razorfish took out space in multiple newspapers to drive fans of the game to a special edition card drop.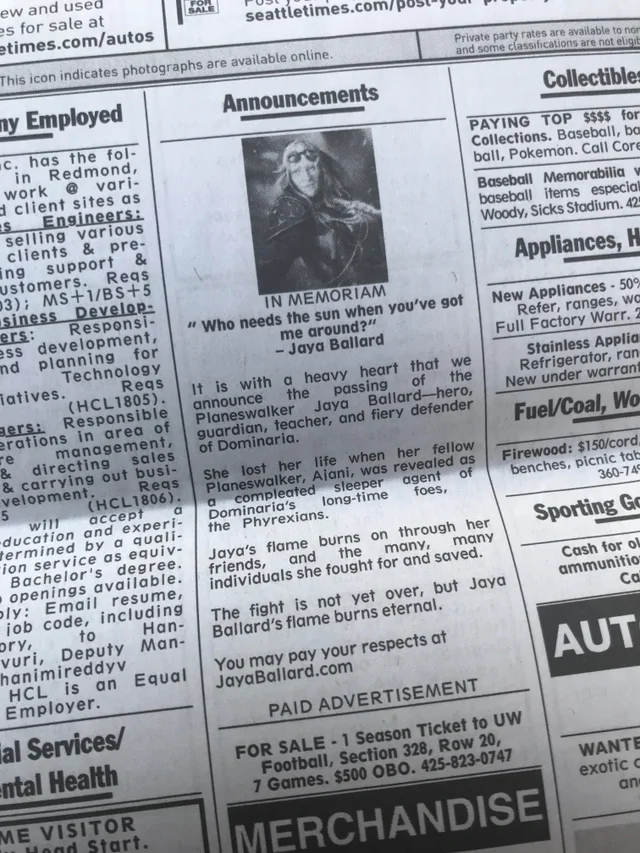 After 30 years of card games and supplementary content, Magic: The Gathering has built up its fair share of backstories and characters well-loved by the millions of players worldwide.
Within the storyline of the card game, Jaya Ballard is one of its oldest characters, having debuted back in 1995. But as part of a story released alongside the game's newest expansion, the character (spoiler alert) was killed off due to a betrayal from another character thought to be an ally.
Such a tragic turn of events is the kind of thing Wizards of the Coast, which produces MTG, thought was worthy of a major commemoration.
The company enlisted agency Razorfish Canada to do just that, which placed obituaries for Jaya in several newspapers around the world earlier this month. The obituaries described her accomplishments and said that her "flame lives on" – a nod to her ability to control fire – and directed to a microsite where fans could sign a virtual guestbook and pay their respects.
The obit in the Seattle Times was the first one to get noticed and shared by an MTG player on Reddit, leading to 20,000 unique visits and over 2.4 organic social impressions within 24 hours of the post.

The microsite also drove to an ecommerce page where players could purchase the August edition of MTG's "Secret Lair" card drop, which contains a special "In Memoriam" edition of a Jaya Ballard card. Created to celebrate MTG's 30th anniversary this year, "Secret Lair" is a monthly series of special edition re-prints of the game's most popular cards, many of which have been updated with things like special-edition artwork.