OpenCircle shows staff want peace of mind, not pizza mind
In a new campaign by FKA, the benefits provider thinks its services will lead to a better retention strategy.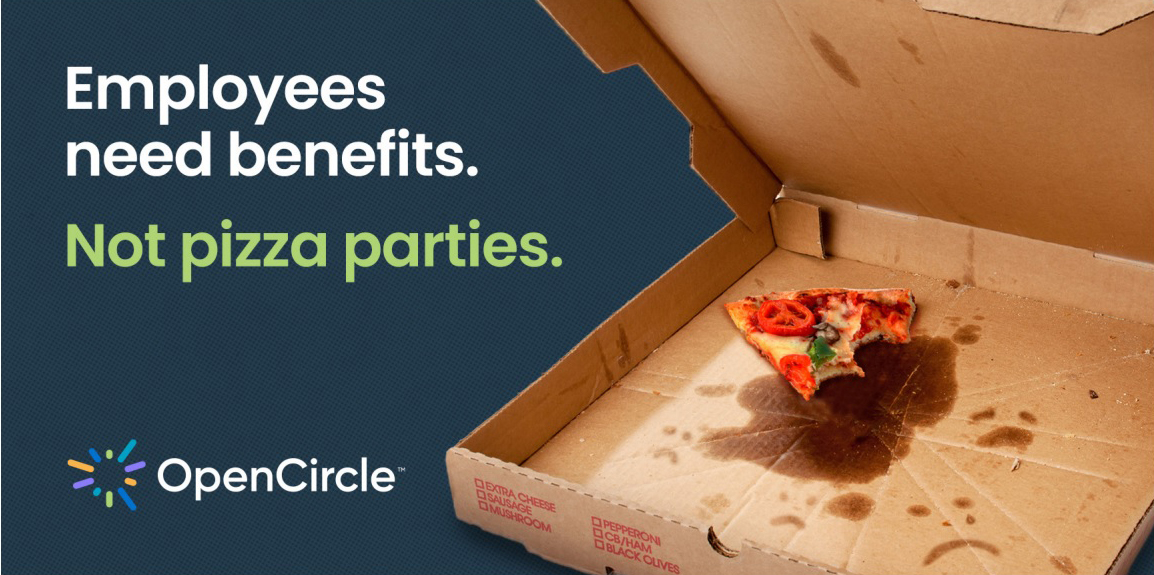 A lot of employees have become extra cheesed with their employers, and they're quitting because of it. But Alberta-based workplace benefits and support provider OpenCircle has launched a new campaign to show those employers how they can retain their wayward employees.
The short answer? Pizza parties – long a stalwart of corporate retention plans and the butt of many workers' jokes – just won't cut it anymore. With employees increasingly feeling overburdened and tapped out, the Great Resignation is raging, but OpenCircle contends that its offering can help companies keep their people happy and, possibly, keep their people, period.
"The creative in this campaign is really about capturing what's going on out there," says Craig Markou, ECD at FKA, the agency which developed the campaign for OpenCircle. "People are tired, burnt out and needing more meaningful support from their employers to want to stay. Not just another pizza party."
Though OpenCircle, which recently rebranded from Merit Contractors Association, is based in Alberta, it's looking to build awareness across the country. To that end, the campaign has been launched nationally and will run through March 2023 across national radio, print, online, and on billboards.
Credits:
Advertising Agency: FKA Canada
Executive Creative Director: Craig Markou
VP Strategy: Ryan Kelly
Copywriter: Colin Christiansen
Art Director: Elliott Kuss
Account Director: Alysia Lambertus
Service Delivery Manager: Larrissa Funk
VP Media: Angelina Cho
Director of Media: Tania Nease
Communications Manager: Rory O'Neill
Strategist: Keandra Kucki
Illustrator: Gord Montgomery
Production Company: Joe Media
Director: Ryley Burghall
Director of Photography: Bradley Stuckel
Editor: Baidik Deb
Colourist: Clinton Homuth
Production Manager: Jacqueline Poissant
Production Coordinator: Blake Frondall
Actor: Jean-Mickel Velasco