CIRA launches first French language .ca ad campaign
The Authority, a manager for top level .ca domains, is going after small business owners.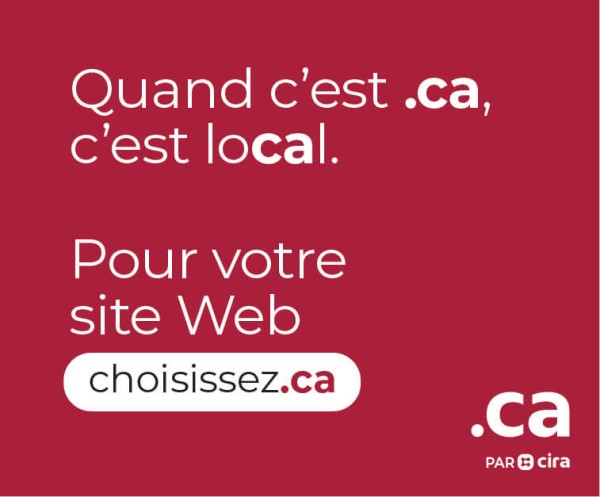 The Canadian Internet Registration Authority, CIRA, which manages the top level .ca domain for Canada, is targeting Quebec business owners with its latest work.
CIRA's new campaign 'Quand c'est .ca, c'est local' ('When it's .ca, it's local') by Headspace highlights the fact that choice of a domain is an effective way for entrepreneurs to showcase that they are a local business that operates locally.
It's being rolled out to coincide with mid-October's Small Business Week, and taps into Quebecer' strong "support local" sentiment, informed by insights that two in three Quebecers say they prefer a .ca domain name to a .com, when they visit a website to support a local business.
The digital 'Quand c'est .ca, c'est local' campaign targets small business owners in the Greater Montreal Area and will begin on October 3rd and run on Quebec's major online platforms, including La Presse, Radio-Canada, Québecor Media and Les Affaires.
The eight-week campaign highlights businesses and brands operating in Quebec that use .ca for their domain. They include avril.ca, pastaga.ca, salutbonjour.ca, and several others.
According to Marc Fares, GM for .ca by CIRA, during lockdowns, an important strategy which has helped many Quebec businesses survive and grow is the expansion of their services online. "Our new campaign is designed to help businesses who are establishing a digital presence make the right domain name choice so they can thrive online," Fares says.
According to insights from CIRA's Internet Factbook survey of 2,000 internet users, conducted by The Strategic Counsel, Quebecers are third (49%) after British Columbians (50%) and Ontarians (54%) when it comes to using global ecommerce retailers. Quebecers are also most likely to say they "never attempt to take a break from the internet"(43%) and the least likely to report internet slowdowns since the onset of lockdowns (17%, versus Alberta, the most likely, at 29%).