Select Wines brings the Jazz Age to life with live theatre
Indie shop Labour transported partiers to a speakeasy for the launch of its newest wine.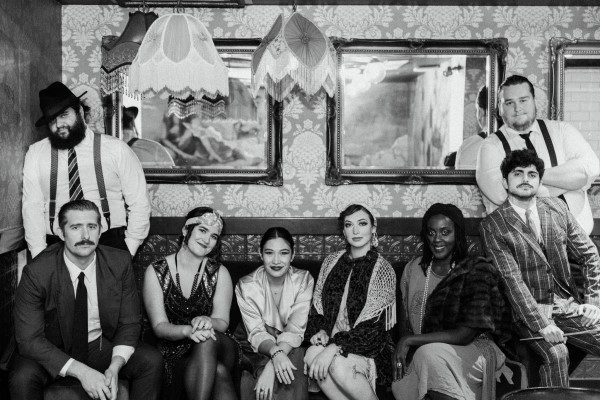 It's an era known for The Charleston, the birth of jazz and unironic moustaches. So indie shop Labour thought the 1920s would be an enticing way to showcase Select Wines' 1924 Limited Edition Bourbon Barrel-Aged Cabernet Sauvignon.
Labour, known as Co-Op before its rebrand late last year, produced a PR event at Oliver & Bonacini's Maison Selby in Toronto celebrating the decade.
Working with Canadian writer and director Michael DeCarlo (Murdoch Mysteries, Queer as Folk), the event featured live music, tarot card readers, theatre performances and, of course, Select Wine's newest product.
Over 80 guests, including media, influencers and VIPs experienced a fully immersive PR launch event that blended the prohibition era with present day.
Guests encountered actors in period dress throughout the mansion, and were led to a secret basement speakeasy, where actors performed a scene that combined live theatre with a unique tasting experience.
Finally, a police raid took place and guests were ushered upstairs to get their 'mugshots' in a 1920′s style photobooth, complemented by live music, themed cocktails, and roaring 20s inspired dishes.
In addition to experiencing the wine, guests were encouraged to develop and share original content online – including their 'mugshots', with designated hashtag #WineWithAPast.
"Because the wine is bourbon barrel-aged, it appeals equally to wine enthusiasts and cocktail drinkers alike," says Monica Lynns, national portfolio manager, Select Wines. "So when we set out to make a splash for the brand's Canadian entry, Labour presented us with a secret, speakeasy media and influencer launch event that really hit the mark in terms of harnessing that wide appeal and creating something worth talking about."
The 1924 Limited Edition Bourbon Barrel-Aged Cabernet Sauvignon is available across Ontario now at local LCBO retailers.