A new underwear brand is taking the piss
Manley Barrier Apparel is provocatively highlighting how it deals with an embarrassing problem.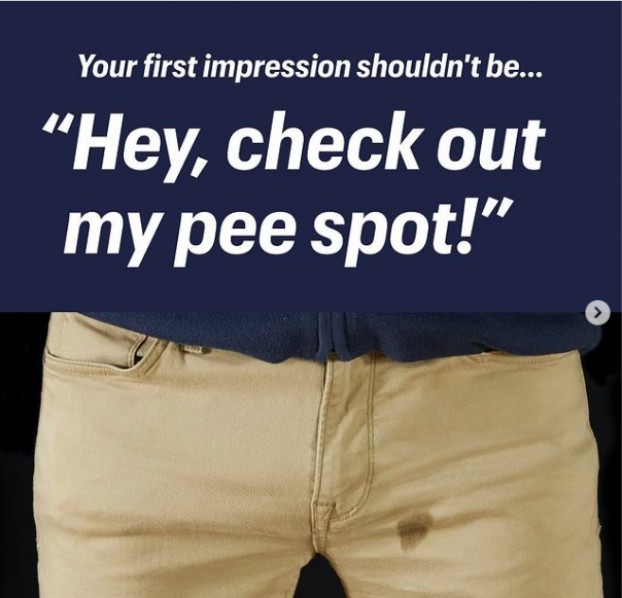 A men's underwear brand is hoping customers can "spot" the difference.
Manley Barrier Apparel announces that it has invented a regular men's boxer-brief that blocks urine leaks, boasting that it is the "first and only regular men's underwear to 'Stop the Spot.'"
An out of home campaign through OutFront Media launched a few days ago at Yonge-Dundas Square in Toronto. According to David Crichton, founder of Grip, an indie agency acquired by Dentsu, who is helping with the company's advertising campaign, it's all meant to be provocative and tongue in cheek, and that "we could all use some levity these days."
Paul Manley, "head underwear scientist," who co-founded Manley Barrier Apparel with Peter Neal of Neal Brothers in 2019, says pee spots are a phenomenon that have confounded apparel makers since man was in loin cloths. According to Neal, "Any man can now walk confidently from a washroom without worrying he might have a drip, drop, dribble or dab of pee that might have made its way to his trousers."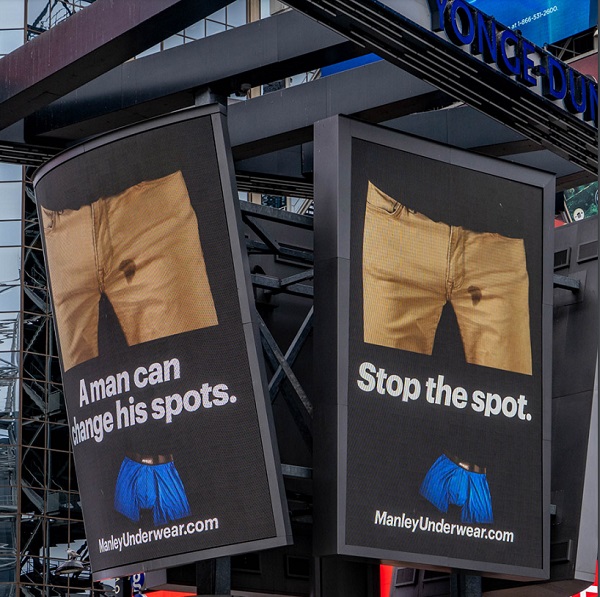 The company's mission statement is "Supporting men's bodies and minds, one pee spot at a time."
The brand touts its proprietary Manley Barrier Technology, which forms an "impenetrable barrier in the underwear's Presenting Pouch."
The idea for the Manley Underwear line came as a result of Peter and Paul discussing their challenges with mental health and men's issues. Consequently, the pair is intending to donate a portion of the profits to men's mental health initiatives.
The Manley Underwear line currently comes in five colours as part of its "Dry Boys" collection: Eclectic Blue, Well Red, Black to Basics, In the Navy, and a bold print pattern designed by artist, Anthony Ricciardi, called Hello! Yellow.