Corona sees a light inside the tunnel after Daylight Savings
FCB helps the brand push its nonalcoholic Sunlight beer by mimicking outdoor light indoors.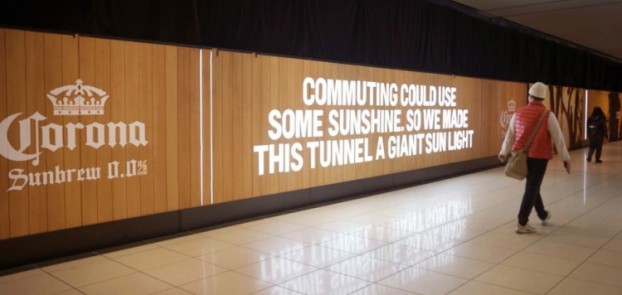 Daylight Savings Time ending a couple weeks ago means it's a dreaded time of year for Toronto commuters: when it is dark as they leave the house in the morning for work, and dark again by the time they leave the office.
To help them stave off impending seasonal depression, Corona is brightening a subterranean walkway to give rays-starved Canadians an extra minute of sunlight as to and from their office building or TTC station. The display, created with agency FCB and located near Toronto's Eaton Centre, features full-spectrum lights that mimic natural daylight.
The activation is specifically supporting Corona's Sunbrew, a non-alcoholic beer that, since launching in January, has been positioned around the concept of "Sunshine, Anytime." Sunbrew also boasts that it gives drinkers 30% of their daily value of vitamin D per 330 mL serving in Canada.
The activation runs until Dec. 21, the Winter Solstice and shortest day of the year.
According to Mike Bascom, senior marketing director at Labatt, Corona is a brand that "lives outside," regardless of whether temperatures are hospitable.
"With the shortest day of the year on the horizon, Canadians are having to adjust to the limited sunlight in their daily routines – particularly during their commutes," Bascom says. "The 'Sunbrew Sunshine Underground' tunnel is Corona's creative way to bring the feeling of 'sunshine' to life during one of the darkest times of the year."
Corona Sunbrew 0.0% – is the brand's entry into the increasingly competitive non-alcoholic beer space and is a beverage intended to tap into a growing market in which the brand's parent company, AB InBev, already plays with other brands, like Budweiser Zero and Stella Artois 0.0.
The product's launch is informed by demand for non-alcoholic beverages in Canada climbing 12% in 2021, attracting "sober curious" drinkers who are increasingly seeking healthier lifestyle options.