Articles Tagged 'geico'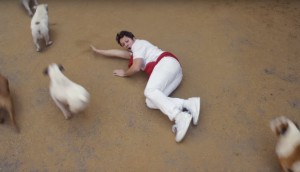 Geico's Spanish horror scene
The insurance company offers its own take on the running of the bulls.
Get Raccookin' with Geico
The insurance provider's online videos parody cooking demos with a raccoon chef.
Fast forwarding through ads
Geico cuts to the chase so viewers can get to their video faster.
You cannot skip this ad
Or at least Geico is making sure you won't want to.
Happy Dough Boy
Pillsbury guest stars in a Geico ad.
Geico tastes best
In a blind taste test, the insurance co. comes out on top.
Pure adrenaline
Geico's Maxwell goes "wee, wee, wee" all the way home.
Cost-cutting
Geico's a better option than guinea pigs.