Shoot Studio's adaptable new logo
The Montreal photography company has debuted a brand platform with a logo that can be used up to 20 different ways.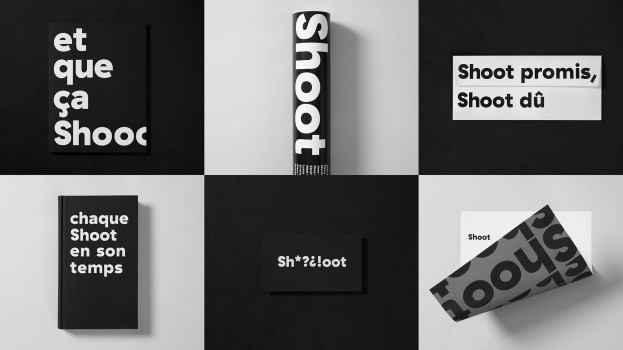 Montreal's Shoot Studio has debuted a new brand platform after having positioned itself more or less the same way for the better part of its near-fourteen-year experience.
Founded in 2004, the photography studio has expanded its operations over the last two years and now counts videographers, producers and a total of nine photographers among its ranks. That led founding partners and photographers Pierre Manning, Jean-François Gratton and Martin Girard to believe it was time to revisit the company's brand identity.
"We're really good at what we're doing, but we're an old business, so we wanted to make sure that we got rid of that image in a way," says Manning.
Lg2 led the company's year-long rebranding efforts, which included strategy and design. Manning and his peers were "blown away" when Lg2 presented them with an animated clip showcasing the possible versatility of Shoot's logo. The new logo was designed so that the word "shoot" could be built around different concepts and could transform and incorporate different typographical elements. In Manning's estimation, it can be used up to 20 different ways.
Manning says the rebranding process helped Shoot rediscover that, rather than act as storytellers themselves, the studio "translates" the story of their clients. "We're trying to tell people that every time we're doing a shoot, we're trying to create something for the client that will tell a story," he says.
The brand platform extends to a new Lg2-designed website that serves as a portfolio showcasing some of the company's best work. Shoot has worked with some big brands in the past, including Air Canada and Nike, and increasingly, those clients are coming directly to them, rather than through an agency.
Shoot has a longstanding relationship with Lg2, which has hired it for projects in the past. Their roles were reversed this time around.
Manning says the company doesn't aspire to grow beyond the Canadian market. Rather, it wants to "make sure that our clients are really well served when they come to our shop," Manning says. "The best outcome for us would be to work with new talent. New photographers, new people bring a lot of creativity to other artists."
A few years ago, Shoot would have tried to do all the work in-house. But recently, it has focused on finding the best talent or the aesthetic best suited to serve its clients, even if that means working with external visual storytellers.