Airbnb lets guests book a stay on Theodore Tugboat
A replica of the titular TV vessel is offering overnight visits to non-crew members for the first time in 22 years of service.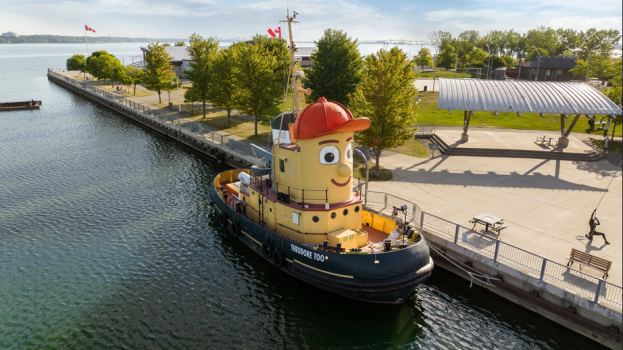 Millennials who grew up watching Theodore Tugboat will now have the chance to climb aboard an iconic replica of the titular ship – to spend a night, no less.
The real-world boat, Theodore Too, is among the newest venues available for rent on Airbnb. Built in Halifax Harbor by the series producers in the 1990s, the boat has been on a North American tour and settled in Halifax Harbour for more than two decades before it was sold in 2021.
It now dwells in the Port of Hamilton – and guests can book a stay aboard the vessel that includes a cruise of the Hamilton Harbour, "a few square meals" featuring "local eats from Hamilton," and a movie night under the stars upon its deck, along with the overnight stay in one of the boat's cabins. This is the first time the tugboat will be available for overnight stays by non-crew members in its history.
The new booking is part of a promotion for Airbnb's new "Categories" functionality, which makes it easier for guests to find unique places to stay around the world. Theodore Too is listed under the "OMG!" category, which offers one-of-a-kind experiences (such as sleeping aboard an iconic tugboat).
Bookings open on Aug. 29 at noon, with two one-night stays offered for up to five guests each, at $22 a night.
Featured image by Henry Shephard.