Skyn campaign urges us to log off and get busy
The "Save Intimacy" campaign by Sid Lee Paris highlights how technology can be an unwanted distraction.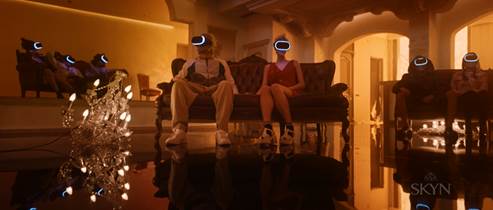 Skyn Condoms thinks we should spend less time online and more time between the sheets.
That's why the brand revealed its global "Save Intimacy" campaign this week, all with the purpose of bringing us closer together. Literally.
Created by Sid Lee Paris, the campaign gives us a glimpse at a not-too-distant future, where VR headsets, TVs and cell phones distract couples from engaging in what could very well be steamy scenarios.
The campaign video opens on a man and a woman who are more enthralled with their phones than each other, a couple watching TV on opposite sides of a spacious bed and others caught up in an alternate reality – until, that is, they touch.
It's not about ditching all tech, however. The campaign's tagline, "Technology is wonderful when it brings us together," is underlined in the marketing of Skyn as a tech-forward condom designed to optimize sensation for both partners.
Launched a decade ago, Skyn is the most recent addition to the 33-year-old LifeStyles portfolio.
"Save Intimacy" rolled out June 20 across digital and social platforms in Canada, the U.S., Brazil, France, Poland, Italy, the UK and Australia.
Credits
Client: Skyn Condoms
Creative: Sid Lee Paris