Nova Scotia Webcams goes meaty
The webcam network wanted to draw more viewers. It found the answer in a spinning hunk of donair meat.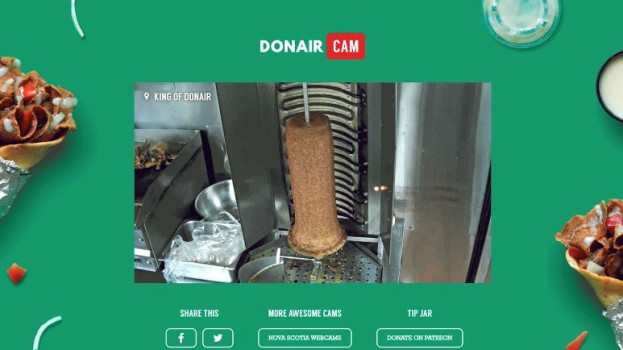 It's a bit like watching the grass grow, except meatier.
Nova Scotia Webcams recently launched a new webcam that offers a 24-hour live stream of donair meat roasting on a spit. The website consisting of a network of 75 cameras normally limits itself to Nova Scotia's beautiful landscapes: White Point Beach, Peggys Cove Lighthouse, Shelbourne Harbour.
The issue with that, according to agency Wunder, is that landscapes just weren't bringing in enough views, and Nova Scotia Webcams needed something – something weird – to reignite interest in the Atlantic province. "After some digging we noticed there was a common trend with previous viral live streams –  they were all pretty weird," the agency noted in a blog post. "Like a live stream of Shia Labeouf watching all of his movies, or a man live streaming his grass growing on his front lawn. It seemed the more strange and mundane a live stream sounded, the more shares it got."
Turns out donair meat was the beefy answer to Nova Scotia Webcams' problem. Within a week of going live, Donair Cam accumulated a total watch time of 22 years and garnered 47 million impressions from viewers in 159 countries.
Credits
Client: Nova Scotia Webcams
Creative director: Stephen Flynn
Director of innovation: Mike Postma