Toronto Blue Jays new star pitcher is a… giraffe
Kidding! The Toys"R"Us mascot threw a pitch as part of a long-term partnership.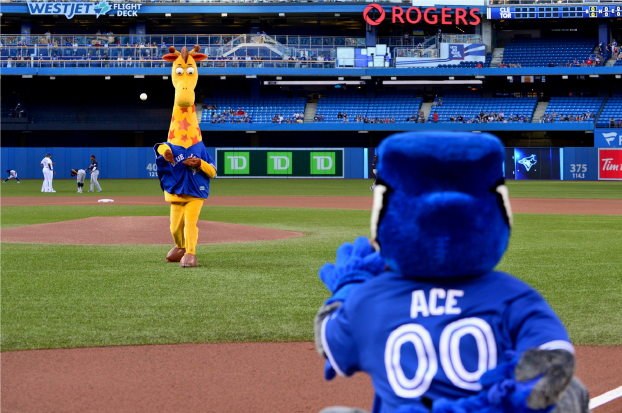 Toronto Blue Jays fans need all the cheering up they can get these days.
Pitcher Marcus Stroman, a.k.a. The Stro Show, has officially left the building after months of capital "D" Drama. And the MLB team is currently in a slump. Remember the days of the bat flip or winning back-to-back championships? Tear. They seem as far away as the field looks when sitting in the 500s at the Rogers Centre.
So an anthropomorphized giraffe throwing out the ceremonial first pitch (perhaps he'll replace Stroman???) is just what the doctor ordered to inject a recent game with some much-needed cheer.
Geoffrey the Giraffe (the official mascot of Toys"R"Us Canada, which has a long-term partnership with the Rogers-owned baseball team) got his big moment at the mound on July 24. The event was promoted by the Fairfax Financial Holdings-owned retailer on YouTube and Instagram in the lead-up to the downtown Toronto event. While the YouTube version didn't get a ton of clicks, the Insta post snagged almost 12,000 views since being posted on July 18.
Both beloved brands have seen better days, but lighthearted family-focused stunts like this are, in our opinion, a home run from a branding perspective. Based on Insta commments like "Bruh, I thought yall shut down," Toys"R"Us Canada still has to remind people that, yes, it's alive and kicking after the brand filed for bankruptcy in 2018. The brand was later bought by Fairfax here in Canada and the company has focused on reaching out to the next generation of Toys"R"Us kids.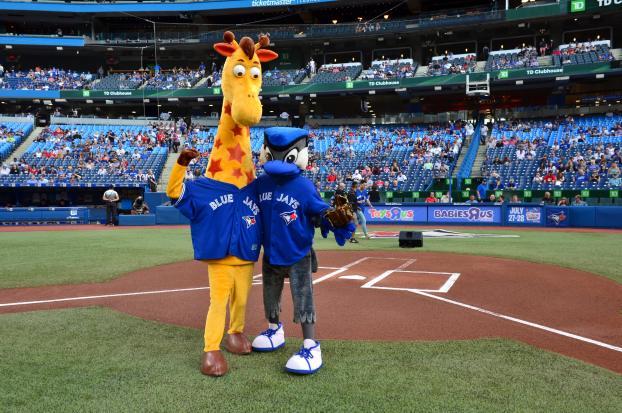 While this marketing stunt is unlikely to help the Jays make the playoffs, it does remind me of the real reason to go a ballgame: to root, root, root for the home team, see an adult dressed up as a giraffe throw a baseball, drink some overpriced beer and, most importantly, send quality time with friends and family.
Credits
Advertisers: Toys"R"Us Canada; Toronto Blue Jays
PR agency: Torchia Communications