What's going on downstairs?
Ikea brings its Market Hall to a billboard, magazine and television near you.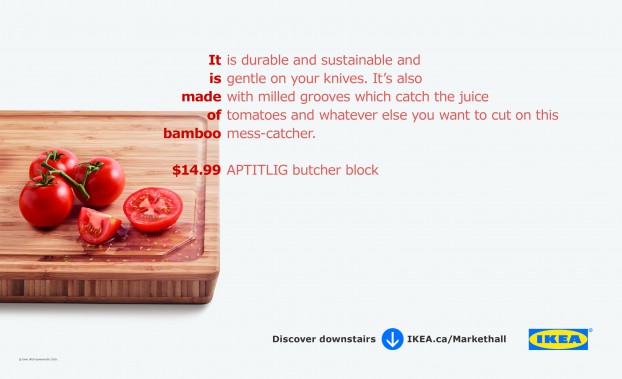 Ikea Canada is taking its marketing to another level, quite literally.
The retailer has just launched the second wave of its "Discover Market Hall" platform, focusing on the lower-level department of its stores that includes more than 5,000 products like kitchen items, plants and pictures.
Launched ahead of Thanksgiving earlier this fall, the campaign is Ikea's first to focus specifically on Market Hall, both in its physical stores and as an online destination.
The retailer's recent marketing campaigns have largely focused on the emotional side of the brand, including with its "Long Live the Home" platform, but the Market Hall campaign is meant to be purposefully different, focusing on Ikea's principle of democratic design" and its vision of bringing well-designed but affordable products to the many, says Lauren MacDonald, country marketing manager for Ikea Canada.
The idea is to grow Ikea's customer base in Canada by telling the stories behind its products' thoughtful designs and how they are developed to solve everyday problems (think a mixing bowl with a lid to avoid splatter), she says.
For inspiration, members from Ikea's internal team and from its creative agency Leo Burnett travelled to Almhult, Sweden, where the retailer's products are developed, to delve into the pillars of democratic design and how it could be communicated to Canadians.
The overall strategy is aimed at elevating Market Hall's products for customers (including current Ikea shoppers but also those new to the brand), educating them about the products' designs and encouraging exploration of the downstairs area.
That came to life in the first wave of the campaign, which included 15-second TV spots, OOH and transit dominations, print and digital. The TV creative takes a cross-section of an Ikea store, beginning in a dimly lit showroom (where most shoppers begin their store trip) before venturing "downstairs" to show the products at work. Each spot then "heroes" a particular product to show its usefulness and price point in a lighthearted way.
In print and OOH, the creative uses messaging that can be read both horizontally and vertically to emphasize the great design, along with a focus on price point.
Some OOH and in-store advertising, meanwhile, took a contextual approach, encouraging consumers and shoppers to literally look down.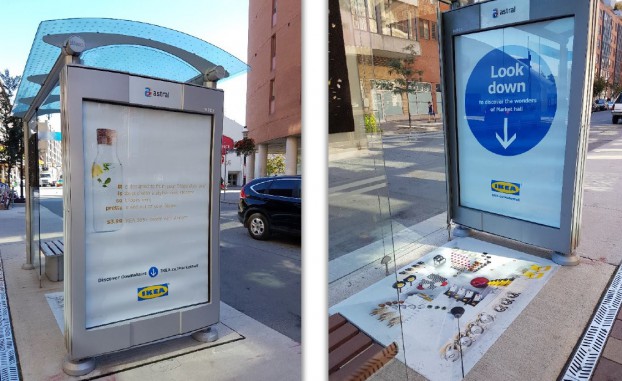 In addition to the focus on affordability and design, there's also a seasonal strategy, MacDonald says. Ikea focused its Thanksgiving campaign around cooking and eating, showcasing the products that would be most useful for Canadians hosting.
The new creative that launched this week for the holidays focuses more on entertaining. Lessons from the first wave of the campaign informed the plan for the holiday push, including upping its use of animated gifs, which contributed to increased engagement on social. Overall, MacDonald says social media engagement was up to nine times its benchmark, while click-through rates during the first wave of the campaign were four times higher than its benchmark, and pre-roll and email engagement were also above average.
Seasonality will continue to play a role in how the Market Hall campaign evolves. MacDonald also noted that with more than 5,000 products as potential "heroes" of the campaigns, the platform has a lot of legs.