Scratching out Alzheimer's
A B.C. organization uses your coin to erase the disease.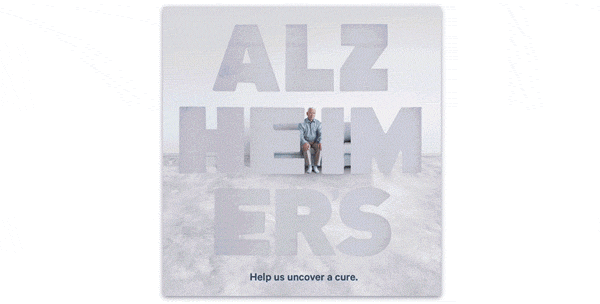 This week is Brain Awareness Week, a global awareness effort to promote the benefits of brain research. One of those benefits is advancements in understanding diseases like Alzheimer's, so the Alzheimer Society of British Columbia has launched a push to show how donations can help fund that understanding and fight the disease.
In a direct mail campaign led by Rethink, a postcard with the word Alzheimer's in big, bold letters was sent out to residents of British Columbia. But the letters are actually made out of the same material you'd use a quarter to scratch away on a lottery ticket. By literally using your money, you can erase Alzheimer's from the scene, revealing the things in the man's life that would otherwise by "covered up" by the disease.
The agency also created a video to extend the campaign online, which launched on the Alzheimer Society's social channels yesterday. Both the postcards and the video are driving people to the Alzheimer Society of British Columbia website to make a donation.
"Our goal was to create an interactive piece to demonstrate how important financial contributions are to those affected by Alzheimer?s disease and other dementias," says Barbara Lindsay, director of advocacy, education, marketing and communications at the Alzheimer?s Society of British Columbia. "This tangible connection ? putting real money to work against the disease is a beautiful metaphor for how big a difference a small donation can make, not just in finding a cure, but for funding of education and support as well."