The Pirates of Lake Ontario
In an effort to promote the latest Pirates of the Caribbean, Disney staged a storming of Polson Pier.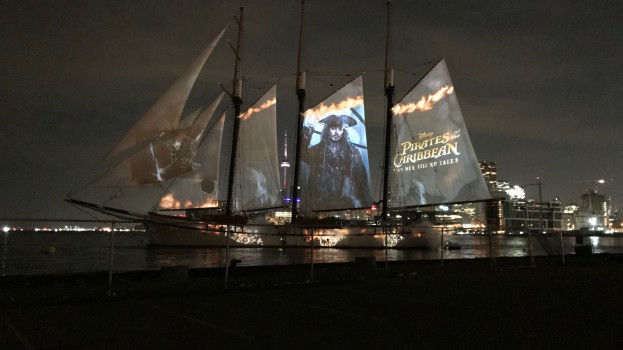 Now that summer is almost upon us, residents of Toronto can enjoy some movies in the great outdoors in locations like Christie Pits and Sugar Beach. Perhaps not wanting to be outdone, Walt Disney Studios Canada decided to project a preview for its upcoming release, Pirates of the Caribbean: Dead Men Tell No Tales, on an unlikely canvas – a tall ship.
In the early morning hours of May 17, Disney took to Toronto's Harbourfront to stage a "pirate takeover" of one of the city's docked tall ships, the Empire Sandy. Using projection mapping, CGI and existing movie footage, the crew simulated fire and showed parts of the trailer on the ship's sails. The team also added seven smoke machines to enhance the effect.
The early morning takeover was likely only caught in person by Toronto's most devoted night owls (and hey guys, get to bed, it's a school night), but the main objective from Disney was to capture a video of the experience. It was posted to Facebook, Twitter and Instagram May 21 and has already gathered more than 1.2 million views across platforms.
Greg Mason, VP of marketing at Walt Disney Studios Canada, told Stimulant the intention was more to create a viral social video than a purely experiential activation, but added that setting the video in Toronto was key for drumming up buzz.
"We're always looking to do something big that's specific to Canada [with our movies], and the fact that Toronto has this harbourfront available to us allowed us to do this whole 'pirates are taking over' scenario," said Mason.
Disney has also undertaken a number of Canada-specific experiential marketing activations in an effort to promote some of its more recent movies, such as a Beauty and the Beast-themed ball at Casa Loma, a fashionable tea party in downtown Toronto for Alice Through the Looking Glass and a mobile fish tank starring the forgetful fish Dory. The pirate ship activation saw Disney once again engage its Canadian experiential agency, Simon Pure.
Pirates of the Caribbean: Dead Men Tell No Tales opens May 26.