Turtles for turtles
The Nestle chocolate brand finds an advocacy role.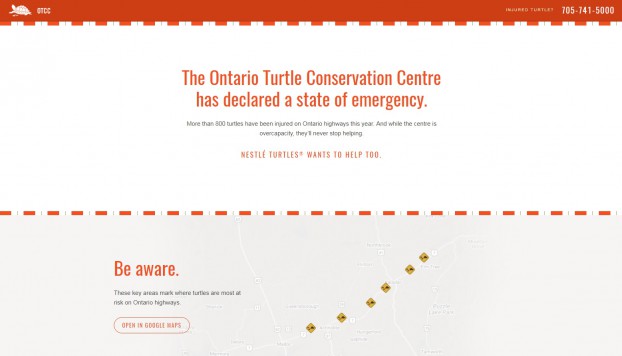 Hundreds of turtles are injured and killed on Ontario highways every year, many of them endangered. The Ontario Turtle Conservation Centre (OTCC), in Peterborough, Ont. is over capacity trying to help the injured ones. So Nestlé, maker of the Turtles chocolates, is stepping in to help.
As part of its "Share the love" campaign, the brand is working with the OTCC to build awareness and encourage drivers to avoid the ambling reptiles.
With help from Narrative, Maxus, Cadreon, Orion and Astral, the campaign – which is led by Toronto agency OneMethod – features digital billboards asking drivers to "Share the road." There's also a Save The Turtles website with information and a map highlighting crossing areas.
And why not? Tying a cause back to brand DNA certainly worked for Honey Nut Cheerios.