I take thee, sponsor
Some couples have resorted to soliciting sponsors to finance the big day.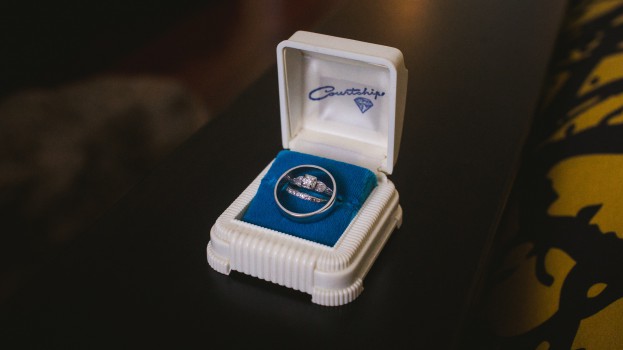 A 2015 BMO Investor Line poll found that the average price of a wedding in Canada, honeymoon included, comes to about $31,000 and change.
The poll breaking down the costs shows that the largest portions of that total are the venue ($9,225), the honeymoon ($5,470) and the rings and band ($2,470).
So for those who are still in the starting stages of their career and planning a dream wedding, what do you do when you're forced to choose between love and pragmatism? Some look at it as an advertising opportunity.
A small but peculiar trend in the wedding industry that has been gaining traction in the media is one where young couples are doing just that — calling for corporate sponsors to step in and exchange a night of exposure, face-time with a few dozen guests and countless Instagrammable moments in exchange for goods and services.
Bride-to-be Samantha Hartley recently made headlines when she set up a space on the platform SponsorMyEvent, looking for corporate sponsors for her ceremony in November 2018. Rebecca Winter Hansen and partner Jason Mielke have also launched their own campaign site, complete with a "dream wishlist." The updated list shows that sponsors have stepped up for some elements, including bakeshop Just Cakes (providing a gluten-free wedding cake) and community group Ladies in Community for the flowers.
Personal finance sites such as  First Quarter Finance, Dope Dollar and blogger Catherine Alford have also advocated for the practice of sponsored weddings for budget-challenged couples.
While the solicitation of sponsors for a wedding may seem bizarre, the trend could prove to pull in big payoffs for brands.
An AdWeek infographic shows that weddings get major pull across all social media channels. On Pinterest, 81% of engaged users (the user-base is mostly female) have admitted to searching for wedding ideas on the platform before even getting engaged. More than half (62%) of couples say they increase their social media usage after getting engaged. On the big day, 90% of millennial wedding guests will post photos from the ceremony and reception on Instagram, and 82% of couples create a wedding hashtag to aggregate social posts.
While some have criticized the sponsorship trend as tacky, they may not be too far off-base — Chicago-based YouTuber and fashion blogger Carly Cristman, a longtime member of L'Oréal's "L'Oréal League" of influencers, incorporated brand partner L'Oréal into some of the social posts around her recent nuptuals, and Singapore Instagram star Melissa Celestine Koh gave social media shout-outs to luxury brands Swarovski and The Botanist Gin for playing a part in her wedding (which sparked a debate over how this affected the common Asian practice of hongbao, to give a monetary gift for special occasions including weddings).
So, if anyone has a reason why this sponsor should not integrate, speak now or forever hold your peace.
Photo: Ten2Ten Photography