Weddingbells debuts its first iPhone-captured cover
In a move to celebrate "real weddings," the St. Joseph publication proves that you can create magic with the tech in your pocket.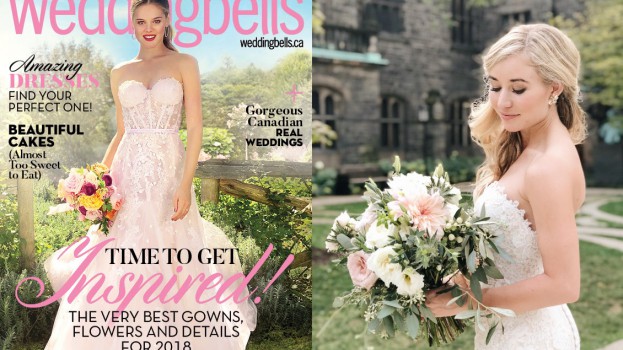 It seems these days everyone loves talking about "real weddings."
For the last two years, Toronto Life has published a semi-regular digital series on local couples tying the knot in their own low-key, sometimes quirky ways, from backyard bashes to lavish parties at the ROM. The Offbeat Bride also celebrates weddings from around the globe, including indie-inspired ceremonies on a shoestring budget.
St. Joseph Media's bridal magazine, Weddingbells, may be known for celebrating the finest in nuptual trends, but its upcoming spring and summer 2018 issue is approaching that with a more down-to-earth feel. The issue will feature a cover and editorial spread shot entirely on an iPhone 8 Plus. According to St. Joseph, it's the first bridal cover shot captured entirely on an iPhone — and it proves that creative departments can get by with just the tech in their pockets.
The issue's main focus is on the "real wedding" trend, with iPhone photos from Kristen Holman and Robert Frasca's October ceremony highlighted.
But maybe don't go suggesting to professional wedding photographers that you could do just as good a job as they do with your cell phone. Both the cover and the featured ceremony were also shot by professionals using the phone. So while the shots may be impressive for an iPhone, there's still a pro behind the lens.
The cover was shot by fashion photographer Alvaro Goveia, while St. Joseph commissioned Toronto-based photographer Barb Simkova on the editorial ceremony.
Alison McGill, editor-in-chief of Weddingbells, said the issue will resonate with readers, providing timely insight into the rising use of technology in the modern wedding world.
The issue hits stands today.