Who's been creeping your portfolio?
A new online tool helps freelancers figure out which agencies have an eye on their work.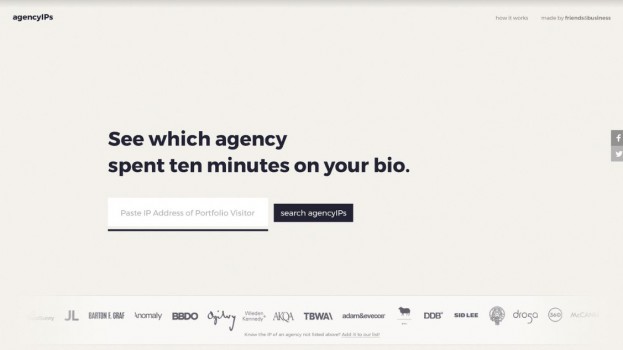 A group of freelancers have set out to help others in the field figure out, in their words, when the "portfolio visitor they keep getting is Mother the agency, or, mother their mom."
Michelle Spivak and Jamie Umpherson, Canadian-bred creative directors now based in New York, teamed up developer Daniel Wilhelmsen on a project they've dubbed "AgencyIPs." The tool's purpose is as straightforward as its name suggests. Users can copy and paste the IP address of a recent portfolio visitor and then check it against AgencyIPs' database of agency IP addresses. From there, the portfolio owner can click on a link to the agency's recruiter, talent or resource manager profile on LinkedIn.
At the moment, the creators say their database contains a disproportionate amount of agencies in New York and Los Angeles, but they hope to get more people on the agency, production and brand sides from underserved areas to upload their office's IP addresses, to make it a more robust tool for freelancers (or even curious full-timers).
Credits
Creative directors: Michelle Spivak, Jamie Umpherson
Developer: Daniel Wilhelmsen