All signs point to feminism
What iconic women would you name a street after?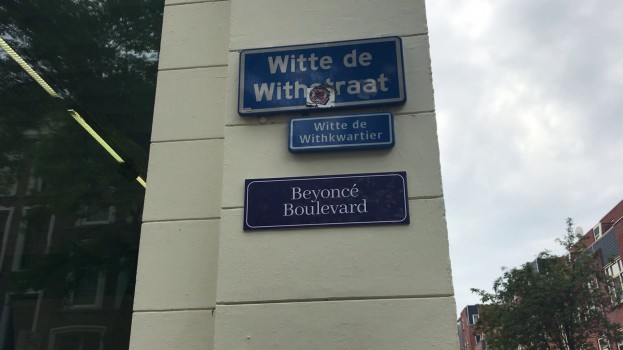 Have you ever walked through Toronto, passed by Nathan Phillips Square, over to Baldwin Street and then caught the Dufferin bus? Or perhaps some of the New Yorkers out there have had to zip halfway across Manhattan from the Lincoln Center Theatre to Columbus Circle all the way down to Broadway-Lafayette.
Do things feel a little masculine to you?
Dutch news site De Correspondent found that 88% of roads in that country's biggest cities are named after men. Kind of a drag, right? Changing street names isn't exactly a quick, easy or seamless bureaucratic process.
But feminist group De Bovengrondse ("above ground") decided to do take to the streets (literally) anyway and make some changes. The group has engaged in a guerilla campaign to replace key street signs with female names.
Women immortalized through the project already include mathematician Ada Lovelace, resistance fighter Marie Anne Tellegen and, of course, Beyoncé.
Here at Stimulant, we think it's important to pay tribute to the people who inspire you, especially those who might not have always gotten the credit they deserve. So we poked around and asked our staff which women they'd want to name streets after.
Someone needs to name a street after Eleanor Powell. When people think of famous tap dancers of the twentieth century, they often think of men like Bill Bojangles Robinson, Fred Astaire or Howard Sims. They're all amazing, but Eleanor Powell was named the World's Greatest Tap Dancer by the Dance Masters of America in 1965 – it's time she became more of a household name, and a street sign would be a good start. – Bree Rody-Mantha, Stimulant editor
CanLit goddess Margaret Atwood needs a street named after her, like, yesterday. She's enjoyed a later-career renaissance as of late thanks to the TV adaptation of The Handmaid's Tale. In these borderline-dystopian times, Atwood is the feminist hero we all need. Atwood has been honoured with a number of awards, from Governor General's Awards to the Booker Prize, but I say what better way to honour our beloved CanLit queen than with a street sign of one's own? – Melissa Dunne, strategy copy chief and special reports editor
I'd name a street after Malala Yousafzai, the Pakistani activist who won the Nobel Peace Prize at 17 for her activism around girls' education. Not only is she an inspiration, but her name also has a beautiful ring to it. – Justin Dallaire, strategy staff writer