Where's my elephant?
Elephants may not forget, but a recent activation by Amarula shows that they could soon be forgotten.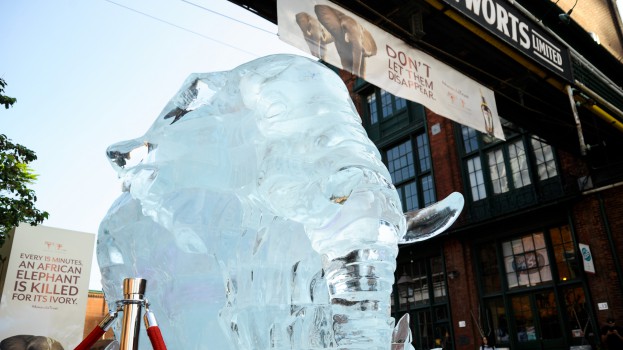 You might be tempted to complain about the heat and humidity this summer. But at least you haven't melted yet.
Unfortunately, one elephant in Toronto wasn't so lucky.
Before you panic, we assure you, it wasn't a real elephant. Elephants do not melt, nor would you find one in Toronto (anymore). But someday, African elephants may be rare even in the lands they're native to, which is why Amarula Cream Liquor called attention to the problem with a unique elephant sculpture in Toronto.
In partnership with Wildlife Direct, Amarula erected a life-size African elephant ice sculpture in Toronto's sunny Distillery District. Unfortunately for the elephant, it was made entirely of ice. Over four hot summer days (beginning World Elephant Day on Aug. 12 and concluding Aug. 15), the elephant congealed rapidly, illustrating the alarming rate at which the world's African elephant population is disappearing.
The activation was spearheaded by Toronto agency Your Band Integrated Marketing and Communication's YBVocal arm. In addition to the elephant itself, the @Amarula Elephant Twitter account and the hashtag #AmarulaTrust were launched. Using Twitter to spread awareness ahead of the sculpture and implant a sense of urgency regarding the elephant's impending disappearance.
Over the length of the campaign, the account saw 12,055 retweets (surpassing its goal of 10,000) and culminating in more than $10,000 donated by Amarula Canada to Wildlife Direct.
As for how you can help elephants, you don't need to be wealthy to make a difference. Besides abstaining from buying ivory, you can make a difference in the grocery and retail aisles by assuring that coffee and wool are Forest Stewardship Council (FSC) certified, avoiding crops grown in plantations that destroy elephant habitats. You can also support conservation organizations including Wildlife Direct, the International Elephant Foundation, African Wildlife Foundation and more.
You can even adopt elephants through charities like the World Wildlife Fund and the World Animal Foundation (don't worry about making room for the elephant in your garage; you simply get photo updates of "your" album while your donations pay for care for the beasts).
Remember: elephants may not forget, but they could be in danger of being forgotten.
Credits
Client: Amarula Canada
Agency: YBVocal