Pathways to Education creates striking riddles
The non-profit gets creative with Camp Jefferson about the realities of Canada's high school dropout rate.
"Heather needs tutoring. If her parents need ⅔ of their money for rent and ⅓ for food, how many federal elections will Heather not vote in?"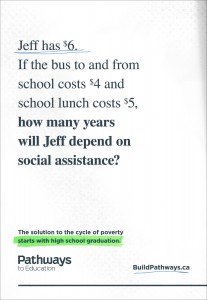 Getting an education in Canada should be a right for everyone. But a new campaign from Pathways to Education is getting real about the barriers students from low-income communities face when it comes to graduating high school.
The riddles featured on the static out-of-home ad are meant to emulate riddles found in a typical textbook, says Colleen Ryan, director of marketing and communications for the Toronto-based charitable organization.
We've all been there staring down at the white pages dotted with math equations thinking, "When will I ever use this?" The creative in this campaign finds a striking way to answer that question with real-time consequences.
The struggle is real. Life is hard and looking to get even tougher for high school-aged students as they face a world rife with the effects of climate change and how that translates to the economy. A digital video ad explores how this is the generation upon which we have bestowed the epic task of saving the planet – if only they could just graduate high school first.
Between five to 15% of high school students in Canada drop out and that number jumps to almost 50% in low-income communities, according to Pathways and Statistics Canada. The campaign is about awareness and attracting support, Ryan says.
So, how about this for a riddle: "If Ralph never leaves his affluent neighbourhood or donates part of his Fortune 500 salary to an organization like Pathways, how long will he stay oblivious at the top?"
Credits
Advertiser: Pathways to Education
Creative: Camp Jefferson
Media: Cossette Media