No one knows what it's like to be the adman
Spend $200 on an emotional support clown, generate thousands of impressions from global coverage – and they think this guy's bad at his job?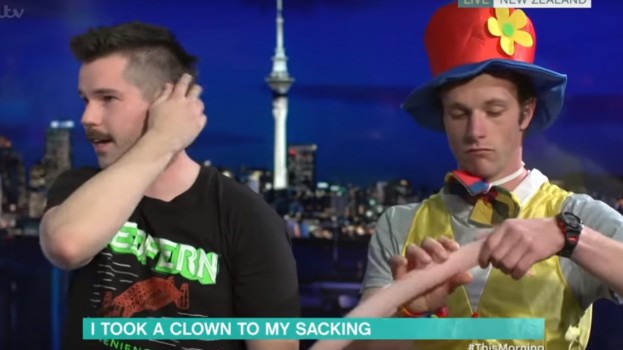 By now you've likely all seen the viral news story about a young professional who brought an emotional support clown into the meeting where his job was declared redundant.
What may have been glossed over by the masses – typical erasure of the creative field – is that the man who lost his job, Josh Thompson, was a copywriter at FCB.
Specifically, Thompson was employed by FCB New Zealand. And, aside from being the land that brought us merino wool and all the stunning visuals from the Lord of the Rings films, one of New Zealand's greatest contributions to the world is its rule that employers must allow workers to have a "support person" present in a serious disciplinary or dismissal meeting.
Most people probably would choose a partner, friend or parent. Thompson chose a clown (as he puts it in this interview, "my Mum can't even juggle," which of course is a key skill in the field of emotional support). And in a much broader way, Thompson chose greatness.
According to the interview, Thompson has a new job already. We've checked up on his LinkedIn, and while it doesn't show where he's moved on to, we think he has potential to take on the world of advertising. Think about it – spending $200 (approximately $176 CAD) on a clown to mime crying and blow up balloons during a dismissal meeting (at one point being asked to stop because the balloons were too noisy) resulted in plenty of earned media for Thompson, with his meeting covered by the likes of The Guardian, CampaignLive, ABC News, Vice and more.
While Canada doesn't have a similar law for its employers, we heavily encourage decision-makers in the creative field to adopt a similar policy. If not emotionally supportive friends and family, we recommend any of the following to be present during disciplinary or dismissal meetings in order to relieve stress:
Karaoke machines (because you and the boss should get to sing one last rendition of "Don't Go Breakin' My Heart" before they break your heart);
Approximately 143 teddy bears;
A poorly behaved but very affectionate husky;
A small basketball hoop, so you can deliver a well-timed "swoosh" immediately after your boss tells you that you'll be denied your overtime pay;
A wall-mounted monitor playing John Carroll Lynch's death scene in Volcano on repeat;
Goat yoga;
An old car, for smashing; or
A large inflatable Carlton who is most definitely up to no good.
Or, I don't know, just let them bring their roommates or something. But let the earned media speak for itself: when you let your creatives be creative even their darkest moments, amazing things happen.
Credits
Copywriter: Josh Thompson
Clown: Joe